Simply Entertaining
We're sort of in recovery mode here.  We started off the month with a visit from our forever friends and their too adorable 4-year old daughter.  We spent four days laughing and talking and drinking and eating, and if I were the type of person that labeled things, I would call it an almost-too-much-fun kind of weekend.  I spent the Sunday after they left feeling like I had a good-times hangover.
Afterwards, I realized that it was one of the first adult-slumber-party, extended-stay, on-the-go weekends we'd had since starting this blog.  And the weekend was a great example of what the Entertaining Couple is all about.  Good friends, good times, good food.  But not fussy, elaborate, spend-all-day-in-the-kitchen kind of food.  Just the kind of food that gives us a reason to gather and linger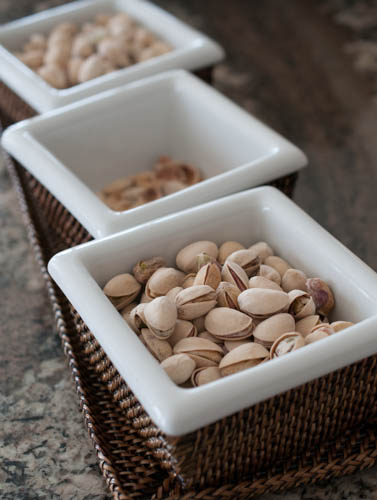 around a table.  Or maybe the lingering was the result of the wine.  Either way, these are friends that we only get to see a few times a year, so it was wonderful to have the time, and reason, to be together.
For one of our dinners (of the three), we started with Tangerine Lemon Drop martinis and simply set out a bowl of pistachios to ward off the hunger and offset the early yet potentially pesky signs of a drink that looks sweet but packs a pretty good punch.  The Bartender dusted the snow off the barbecue so we could make our Barbecued Salmon.  We served this with a simple sticky rice and a vegetable stir-fry.  And the Bartender opened a really good bottle of zinfandel, which just added another level of yum-factor to the evening.