A recipe from EntertainingCouple.com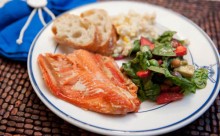 Barbecued Salmon
One of our favorite Pacific Northwest meals. Works great as a main dish; we also love serving a smaller piece of salmon over a bowl of rice and veggies.

Recipe
Ingredients:
3 garlic cloves, minced
2 tablespoons butter, melted
1 cup Yoshida's Original Gourmet Sauce
2 pound salmon filet, skin on
Directions:
At least 45 minutes (and up to several hours) before cooking, combine the minced garlic, melted butter, and Yoshida's sauce in a saucer or mixing cup.
Pour marinade into a shallow pan.
Lay salmon fillet in the marinade, skin side up (skin does not need to be marinaded) and allow to marinade for at least 30 minutes.
If not cooking within an hour, refrigerate uncovered; remove from refrigerator 30 minutes before cooking.
Bring barbecue to medium-high heat (about 25 coals if using a charcoal grill).
Place salmon fillet directly on the grill, skin side down.
Close barbecue cover and grill for 8-12 minutes depending on thickness.
Salmon is done when meat begins to pull away from the skin at the edges.
Remove from grill by sliding a spatula between the meat and the skin (the skin will stick to and remain on the grill).
Serve immediately.
Hostess' hint:  Select a salmon filet that's uniformly thick for even cooking.  Coho is our favorite as it's a thinner fillet and really plays up the flavor of the marinade.  King works well and will take a few more minutes to cook as it's much thicker.
* Total time includes a minimum of 30 minutes for marinating the salmon.  If you have more time, marinating for up to 3-4 hours will give outstanding results.
Total time: 1* hr | Prep: 10 min | Cook: 15 min