A recipe from EntertainingCouple.com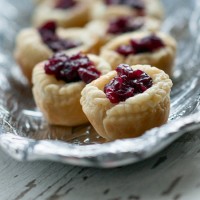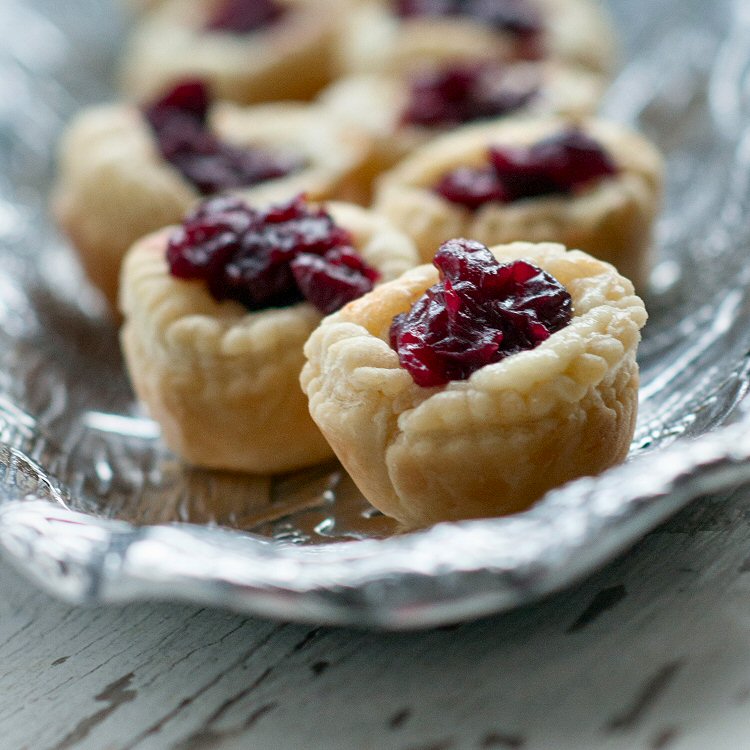 Brie And Cranberry Bites
These tarts are tasty and super easy to make. You can make them ahead of time and bake them right before serving. Read our post for more info...

Recipe
Ingredients (makes 18 Brie and Cranberry Bites):
1 sheet (1/2 package) frozen puff pastry
1/2 cup Brie cheese
1/2 cup fresh cranberry sauce (get recipe here), or equivalent
Directions:
Preheat oven to 400 degrees.
On a lightly floured surface, unfold the puff pastry and remove the paper dividers.
Using a rolling pin, lightly roll the puff pastry to seal/flatten the seams.
Using a 2 1/2″ round cookie cutter, cut 18 circles. (You will probably have to re-roll some of the leftover dough to get 18 circles.)
Place one circle of dough over a small muffin cavity.  Using a tart tamper, or a similar tool, gently press the dough into the cavity. (Click here for helpful pictures)
Remove the rind from the Brie.  Place about 1 teaspoon of Brie into the center of each dough pocket.
Bake at 400 degrees for about 10 – 12 minutes or until the cheese is melted and bubbly and the puff pastry has started to brown lightly.
Remove from the oven and top each with about 1 teaspoon of cranberry sauce.
These can be served immediately (warm) or saved and served cool later.
Hostess' hint:  This recipe works best if you bake the bites while the puff pastry dough is still cool.  If the dough warms to room temperature before baking it may puff up and overflow the muffin tin, so it's good to keep this in mind if you're planning to make several batches.
Total time: 45 min | Prep: 30 min | Cook: 10-12 min