A recipe from EntertainingCouple.com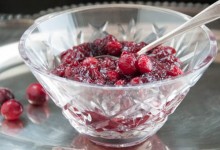 Cranberry Cognac Sauce
If your idea of great cranberry sauce comes from an Ocean Spray can, try this recipe for homemade cranberry sauce! You'll never go back. Read our post for more info...

Recipe
Makes 6 servings.  The recipe can easily be doubled.
Ingredients:
5 whole Allspice berries
4 whole cloves
4 whole black peppercorns
1 cinnamon stick, broken in half
1/4 – 1/2 teaspoon red pepper flakes
1 cup orange juice
1 cup brown sugar (packed)
4 tablespoons Grand Marnier liqueur
1 12-ounce package fresh cranberries
Directions:
Using a piece of cheese cloth, combine the allspice, cloves, peppercorns, cinnamon stick and red pepper flakes and tie into a small bundle (see picture below).
In a medium saucepan, combine the orange juice, brown sugar and Grand Marnier.  Stir to combine.  Add the cranberries and stir.  Add the spice bundle.
Place the pan over high heat and bring to a boil.  Reduce the heat to low, and simmer the cranberries for at least 30 minutes (and up to 60 minutes) until liquid has boiled down and the sauce has thickened.
Allow to cool.  Remove the spice bundle.
Serve at room temperature (if serving immediately) or refrigerate until ready to serve.
Total time: 1:15 hr | Prep: 15 min | Cook: 1 hr