Blueberry Martini? What a Great Idea!
It all started a year ago when a friend of ours showed up at our house with a bottle of Hangar 1 Maine Wild Blueberry vodka.  The Hostess and I go way back with Hangar 1's excellent hand-made infused vodkas.  We love how a splash of their Fraser River Raspberry vodka turns our Lemon Drop into something uniquely special.  And I, being a bit of a spice-lover, really, really like their chipotle-infused vodka in a Bloody Mary.  So the bottle of blueberry vodka practically popped its own cork as it came through our front door.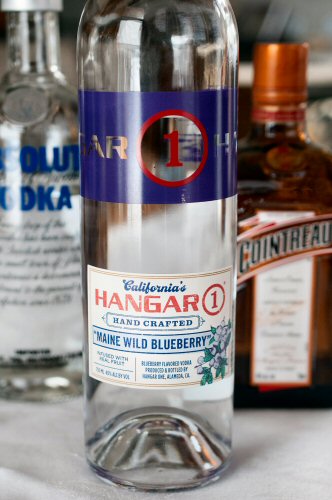 Surprisingly, though, we didn't immediately warm up to the blueberry flavor.  The vodka tasted great straight, so it seemed obvious that it would be a welcome alteration to any of our popular vodka cocktails.  I immediately set about experimenting (tough job, I know), and the timing was perfect as we had a houseful of thirsty lab rats, but in the end I wasn't hugely satisfied with any of the results.  And the bottle ended up languishing in the liquor cabinet as I reverted back to serving our "usual" cocktails to our guests.
Last week, though, while ruminating with friends on various vodka infusions (and by ruminating I might actually mean consuming), the Hostess recalled our (now dusty) bottle of blueberry vodka and had an epiphany:  Maybe, instead of trying to force the blueberry flavor to complement one of our existing cocktail recipes, I should instead concoct something new from scratch:  A Blueberry Martini that would highlight the flavor of the Hangar 1 vodka.  Brilliant!
You probably read that and thought, "Um . . . duh!"
Yeah, well, remember that I'm a techie at heart and can be a stubbornly linear thinker, so it sometimes takes a pretty big slap upside my thick head to get me thinking outside my box.  Plus, once that's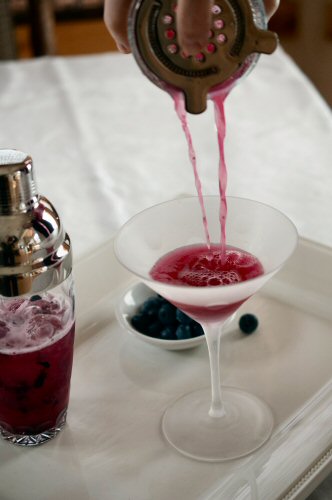 happened and I'm on a roll, I tend to think that the brilliant idea was mine to begin with.  So I'm hoping to get brownie points from the Hostess for actually acknowledging, here in public, that the Blueberry Martini was indeed her idea.  But enough about me and my quirks.  For the recipe of our newly-launched Blueberry Martini, I took inspiration from the flavors of our Lemon Blueberry Muffins and combined muddled blueberries with a squeeze of fresh lemon juice to achieve a not-too-sweet balance. And I think we nailed it!  My recipe successfully debuted during the Hostess's recent "Girls Weekend" so it now has the Entertaining Couple's official seal of approval. Plus, with all the anti-oxidants that are packed into blueberries, you can slurp these down practically guilt-free.  Give one a try, and leave a comment to let me know what you think!
Cheers!
Click here to get recipe