A recipe from EntertainingCouple.com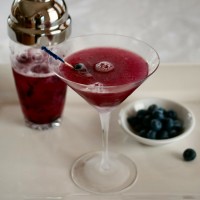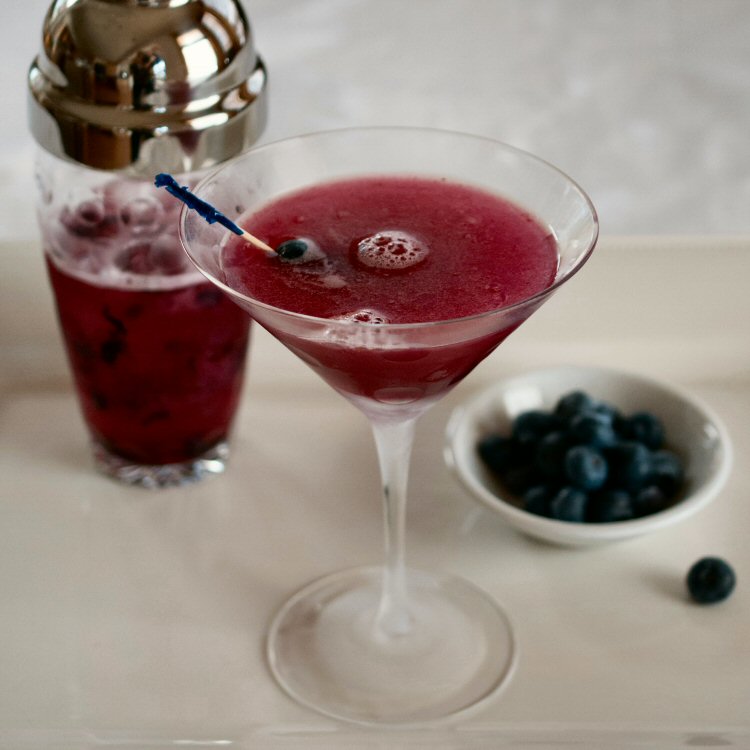 Blueberry Martini
This gorgeous cocktail features muddled blueberries, Hangar 1 Maine Wild Blueberry vodka, and a squeeze of fresh lemon juice to achieve a delicious, not-too-sweet balance. Read our post for more info...

Recipe
Ingredients (serves 2):
1/2 ripe lemon
1/4 cup blueberries (about 15 berries, can be fresh or frozen)
1 1/2 ounce Hangar 1 Maine Wild Blueberry vodka
1 1/2 ounce vodka
1 1/2 ounce Cointreau
2 ounces premium lemonade
Ice
Directions:
Add the blueberries to the glass side of a Boston-style cocktail shaker, squeeze in the juice of the lemon half, and muddle until berries are well crushed.
Fill metal side of shaker with ice and pour in the lemon/blueberry mixture.
Add vodka, Cointreau, and lemonade.
Join shaker halves and shake briskly for 15-20 seconds.
Strain into chilled martini glasses.
Garnish with skewered blueberries.
Bartender's Hint:  If you ever come across Hangar 1's Maine Wild Blueberry vodka, stock up!  It can be difficult to find.  If it's not available, adjust the recipe to use 3 ounces "regular" vodka, throw in a few more blueberries, and reduce the lemonade slightly.  If you do find the blueberry vodka, you may be tempted to use a full 3 ounces; for our tastes, using a 50-50 blend with plain unflavored vodka results in a smoother blueberry martini.
Total time: 5 min | Prep: 5 min | Cook: N/A