A Recipe Straight from Tuscany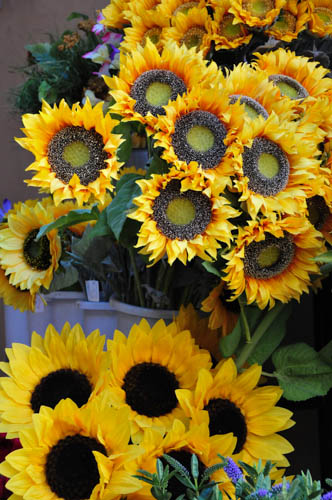 Most people agree, there is a lot to love about Italy.  People who have been there talk about the history.  The culture.  The scenery.  But mostly they talk about the food.  And rightfully so.  The food in Italy is worth talking about.
We recently spent a couple of weeks in Italy with friends.  At one point, there were 11 of us together in a rented villa in Tuscany.  One day, we had chefs come to our kitchen and give us a class on Italian cooking.  It was an evening to remember.
We had two chefs, Christiano and Stefano.  One spoke very little English so the other did most of the talking.  In his very thick Italian accent, we learned that they are fanatical about their ingredients, even making their own olive oil (which they make after they "catch" the olives).  Their point was, "Everything you put in the saucepan is what you eat later."  Got it.  Be picky about the ingredients.  Our instruction, and subsequent meal, included homemade pasta with a ragu meat sauce, pork tenderloin and tiramisu.  All of it was ridiculously delicious.
There are many aspects of that trip that I think about on an almost daily basis, and that meal is at the top of the list.  A great group of friends gathered together, making and then sharing a meal.  It was one of those "priceless" experiences.  While we can't recreate everything about that experience back home (for the life of me I can't figure out how to get church bells to ring every hour), there are aspects that absolutely can be part of a dinner party at home.  For starters, I came back determined to recreate the meal.  Today, I'm sharing with you my version of the Tagliatelle al Ragu di Carne (Typical Tuscan meat sauce).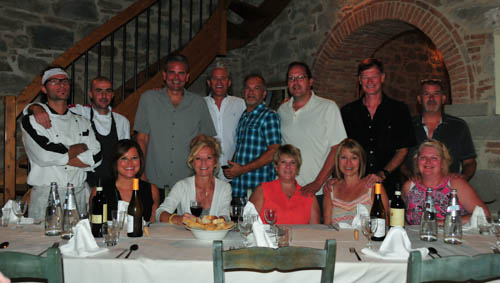 First, the sauce.  Here, in the United States, we've come to associate "Ragu" with an inexpensive bottled spaghetti sauce, when in Italy it simply means "meat sauce."  Our chefs used 3 different meats for the sauce:  veal, pork and chicken parts.  The chicken parts actually became sort of joke because it wasn't completely clear at first what parts they were using.  Initially we thought they were using chicken livers, but after many attempts at translating, we were able to determine that it was hearts and gizzards.  I think you'll recall that I'm all about simple entertaining, and collecting/cooking/dicing chicken parts (regardless of what part it is) falls outside of my tolerance for simple, so I opted not to include it in this recipe.  We tried to find ground veal to no avail (although we were told by the butcher at Safeway that we can order it), so I substituted good, lean, organic ground beef and then used ground pork as well.  As a side note, the first time I attempted this recipe I used ground turkey, as I often do in sauces, and found it to be a little bland.  The beef/pork combination worked well and produced a rich, flavorful sauce similar to the original Italian version.  I used canned tomato sauce that seemed to be similar to the ones they used in class.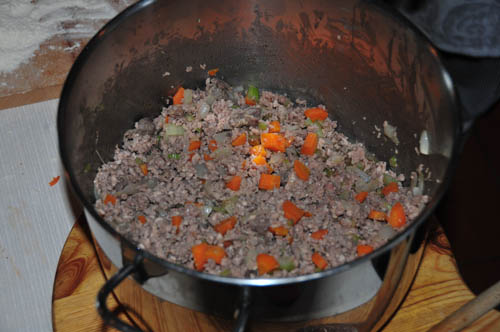 It was also a little unclear how much of what spices they used.  They used an "aromatic mix" that they had made before arriving at the villa.  I know their mix included rosemary and sage, so that's what I used.  They told us to add the salt early in the cooking process for flavoring, but to save the other spices until the end so that the aromas don't get cooked out of them.  They said if you add the things like the rosemary and sage too early, you just end up with "little green pisses" (said in a very thick Italian voice) by the end.  I thought this was so endearingly charming and Italian, I repeated it several times as I was making our sauce.
Finally, the pasta.  During our class, we made the pasta from scratch.  Honestly, during a cooking class in Italy, I would've been a little disappointed if they had shown up with packaged pasta. While it was definitely fun and actually sort of kinda easy, it's honestly more work than I'm willing to do for dinner at home.  Again, falls outside my tolerance for simple.  (Coincidentally, a good friend of mine today posted pictures of her at home making pasta.  I curtsy to her and her moxie).  The pasta we made was "pici" (pronounced like "Pee Chee," for any of you old enough to remember that orange folder we used to carry in school.)  We weren't able to find pici locally (but have since found it online), so we substituted a fresh, fettuccine pasta that was similar to pici in size.  The point is that with this sauce, you want to use a substantial pasta.
The result?  A really tasty pasta that's fairly easy to make and is true to the authentic dish we made in Tuscany.  The next day, the Bartender declared it the "best leftovers he's ever eaten," which is noteworthy as well.  We'll definitely be making this one again.
Happy Entertaining!