A recipe from EntertainingCouple.com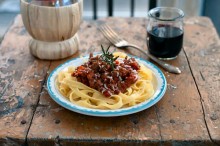 Recipe
Ingredients:
2 tablespoons olive oil
1 yellow onion, diced
2 carrots, peels and diced
2 celery stalks, diced
1 pound ground pork
1 pound lean ground beef
1 cup white wine (red wine can be substituted)
1 28-oz. can crushed tomatoes
1 15-oz. can diced tomatoes
1 teaspoon salt
1/8 teaspoon ground pepper
2 tablespoons fresh* rosemary, chopped
2 tablespoons fresh* sage, chopped
*(if using dried spices, use 2 teaspoons each)
Grated Parmesan cheese, for topping
1 package fettuccini or similar pasta
Directions:
In a large stock pot or sauce pan, heat the olive oil over medium heat.  Add the onions and cook for about 5 minutes.  Add the carrots and celery and cook until tender, about another 10 minutes.
Add the ground pork and ground beef.  Continue to cook until the meat is browned.  Drain off any excess liquid/fat if necessary.
Add the wine.  Do not cover the pan.  The alcohol needs to evaporate.
Add the tomatoes and salt.  Stir well.  Cover; simmer over low heat for at least an hour.
Add the pepper, rosemary and sage.  Continue to cook while you prepare the pasta (according to package instructions for al dente).
Serve the meat sauce over the pasta, garnished with fresh Parmesan cheese.
Total time: 1:30 hr | Prep: 30 min | Cook: 1 hr