Holiday Punch – Champagne, Cranberries, and Spiced Simple Syrup
Last night the Hostess and I made another appearance as guest bartenders at Salon Rouge, one of our favorite local businesses, for their annual Holiday Open House.  It was our third year consecutive year, so I guess it's now officially become a holiday tradition for us. While the mission of our blog is to teach our tips and tricks to others, we also know that it's good experience for us to occasionally "walk the talk" and see how well our advice works outside the comfort of our own home.  Plus, we're both regular customers of the salon so we're happy that they give us this opportunity to help them out.
Each year Rachel and Karin, the owners, ask us to come up with a "signature cocktail" for the event.  As in past years, we needed something red (partly to be in the spirit of the holiday season, but mainly because of the "Rouge" in the salon's name).  The past two years we'd served drinks (Pomegranate Martinis and Cosmopolitans) that were already in regular rotation at our home bar, but this year we decided to come up with something new.  The Hostess took to the interwebs and found several ideas to run past me.  Since we'd played with infused simple syrups last summer, I really liked one recipe that featured a simple syrup infused with cinnamon sticks and cloves.  Plus, two of the key ingredients were cranberry juice and champagne.  Red and festive?  Check!
We experimented and made some adjustments to scale things up to "punch bowl size" in order to easily serve a large group.  When serving cocktails from a punch bowl you need to consider a few things. First, you need to be prepared to replenish the punch from time to time so that the bowl stays close to full (there's nothing sadder than a nearly-empty punch bowl crying "The fun is about to end"!).  Second, you want the punch well-chilled without having to add a ton of ice, since melting ice will quickly water down the top couple inches of your punch.  And third, in the case of a champagne punch, it's best served "up" — you don't want to ladle chunks of ice into your guests' glasses.  Debbie solved the ice challenges with a spectacular cranberry "ice ring" that she made in a Bundt pan, and we pre-chilled all of the ingredients so that the punch was cold to begin with.  An ice ring is perfect for a punch bowl cocktail as it melts much more slowly than crushed ice. Debbie's cranberry ice ring added a festive flair as, over the course of the evening, it slowly gave up its cranberries and they ended up floating on the surface of the punch.
Everything in the punch bowl was alcohol-free so it was easy to serve virgin cocktails to kids and non-imbibers:  We simply filled their glass halfway from the punch bowl and topped with sparkling cider.  And the rest of the crowd loved watching how we'd start by putting a dash of Grand Marnier into their glasses ("What's THAT??") followed by the punch and champagne.  Adding the bubbly to the glasses at the last minute, instead of directly into the punch bowl, made sure that everyone's drink was fresh and sparkly.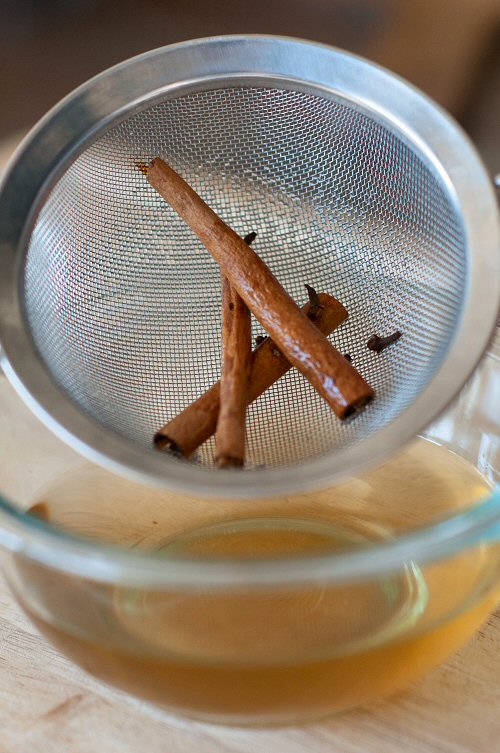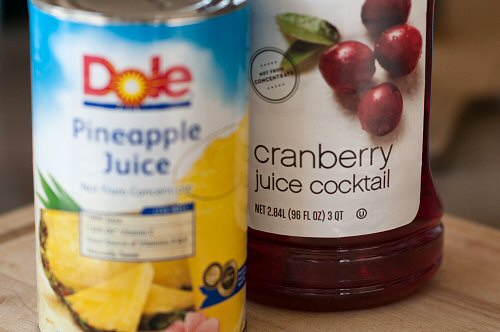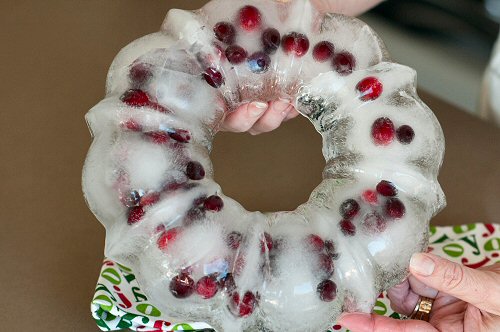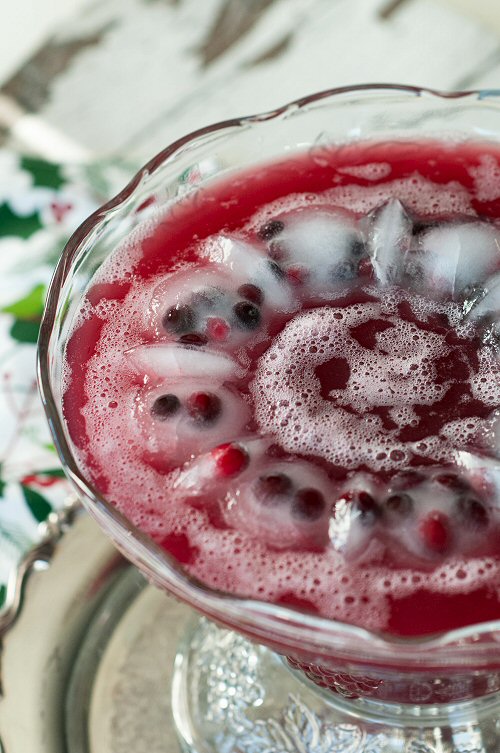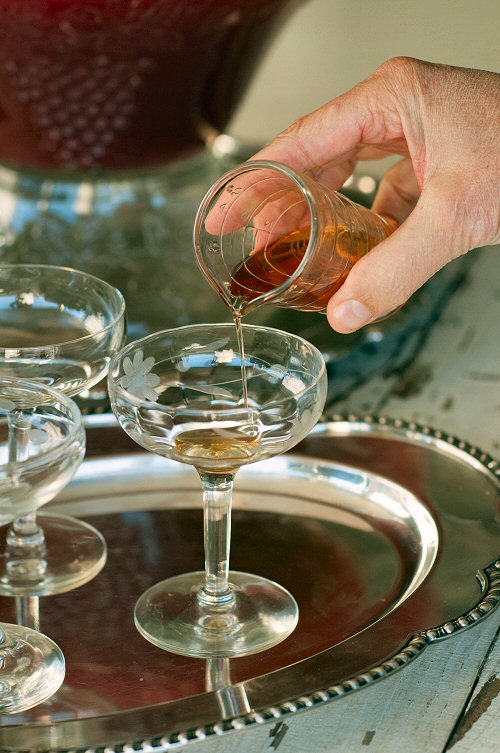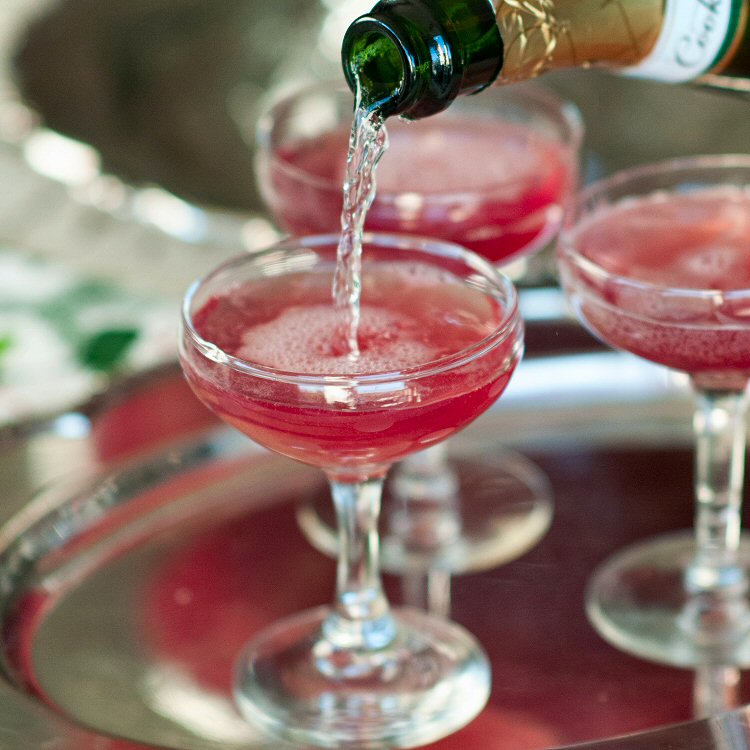 So enough about the process.  Can I just say how incredibly GOOD this punch is?  Tart and tangy cranberry and light, refreshing champagne, layered over warm spices and rich-orange Grand Marnier.  I mean, seriously.  I'll probably never again smell potpourri without craving a champagne flute full of our holiday punch.  Keep the ingredients for this recipe on hand from Thanksgiving through New Year's Eve and you're good to go for all your holiday entertaining.
Cheers!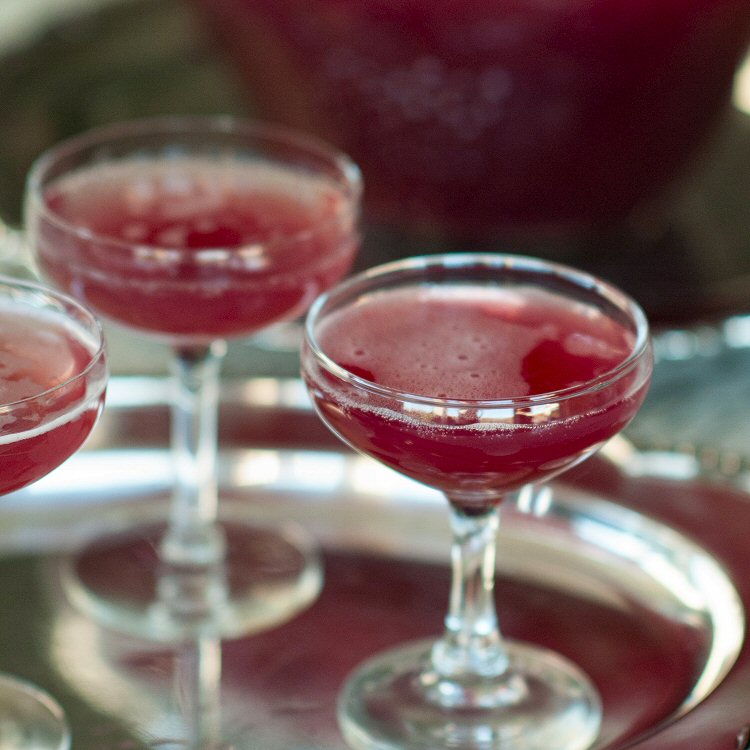 Click here to get recipe