A recipe from EntertainingCouple.com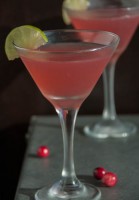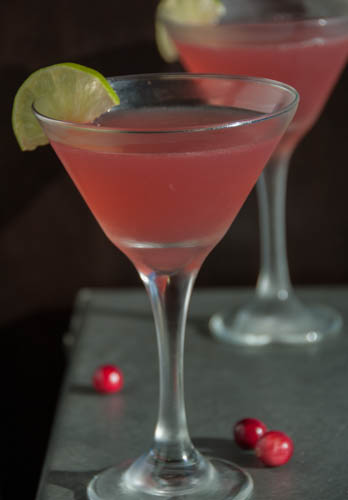 Cosmopolitan
Everyone seems to have their own unique take on the Cosmopolitan. We've sampled quite a few variations, and in our opinion this is the best way to make one. Read our post for more info...

Recipe
Ingredients (serves 2):
1/2 lime
3 ounces vodka
1 1/2 ounces Cointreau
2 ounces cranberry juice
Ice
Directions:
Fill cocktail shaker with ice.
Squeeze in juice of the lime half.
Add vodka and Cointreau.
Top with cranberry juice.
Sugar the rims of two chilled martini glasses (optional).
Shake the Cosmopolitan briskly for 10-15 seconds and serve in the chilled martini glasses.
Garnish with a lime wedge if desired.
Bartender's Hint:   For best mixing results, use a cocktail shaker that's large enough to allow for about an inch of empty space after adding all ingredients.   Shake your Cosmopolitan vigorously until the shaker is frosted on the outside.
Total time: 5 min | Prep: 5 min | Cook: N/A