A recipe from EntertainingCouple.com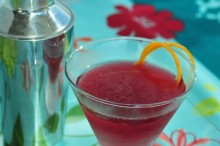 Recipe
Ingredients (serves 2):
1/2 ripe orange
3 ounces Absolut Mandarin vodka (or similar)
1.5 ounces Cointreau
2 ounces fresh   pomegranate juice
Ice
Directions:
Fill cocktail shaker with ice
Squeeze in juice from orange half
Add vodka and Cointreau
Shake drink briskly for 10-15 seconds
Serve in chilled martini glasses
Garnish with orange twist if desired
Bartender's hints:  Only pure pomegranate juice from your grocer's refrigerated juice section will yield a great cocktail.  Juices found in the bottled juice section (next to the Ocean Spray cranberry cocktail) are too thin and light to balance out the amount of alcohol in a martini-strength cocktail.  Also, we've tried some of the blends out there (pomegranate with blueberry, mango, acai, etc.) and have been disappointed each time, so we recommend sticking with basic, straight pomegranate juice.  POM will give great results.  If you can find Odwalla, even better (we like their juice best, but our local grocers seldom stock their "pure" pomegranate juice).  And, when they're in season, organic Valencia oranges take this cocktail to the next level.  Seek them out.
Total time: 5 min | Prep: 5 min | Cook: N/A