Turkey: From Roast to Soup
I'm all in favor of a big feast of turkey, or roast beast if you happen to live in Whoville.  Even with the prep and all, I like the whole tradition of putting a big, festive meal on the table.  But, truth be known, what I'm really a fan of is the leftovers.  Which is why I will cook a turkey the size of Rhode Island, even if I'm only feeding a few.
If your guests are staying longer than a day, leftovers can solve the meal quandary for days.  This is one of those situations where a little planning can go a long way in simplifying your entertaining.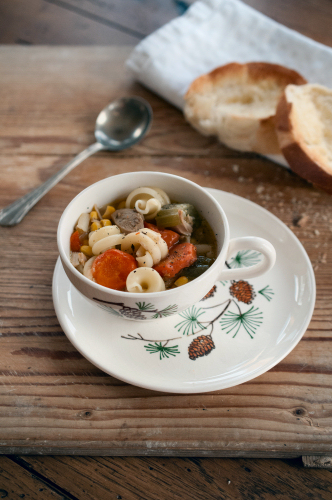 One of my favorite ways to use turkey leftovers, and feed several people, is to make turkey noodle soup.  While making your own broth isn't difficult, when we have house guests, I usually go the simple route and just use store-bought chicken broth.  Mainly because some people find the sight of the carcass stewing in water a little unappetizing.  That, and I don't want to mess with one extra step if I don't have to.  If you want to make your own broth, but don't know how, just let me know and I'll gladly share the how-to.
This year I actually froze some turkey meat and made soup a couple of weeks later.  The beauty of this soup is that, besides using leftovers and providing a crowd-pleasing meal, it's not difficult to make.  The only real labor involved is just a little chopping in the beginning to get the veggies ready.  After all the work of preparing the big meal, it's nice to have a simple plan for feeding everyone the next day.
Happy Entertaining!