A recipe from EntertainingCouple.com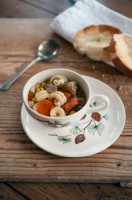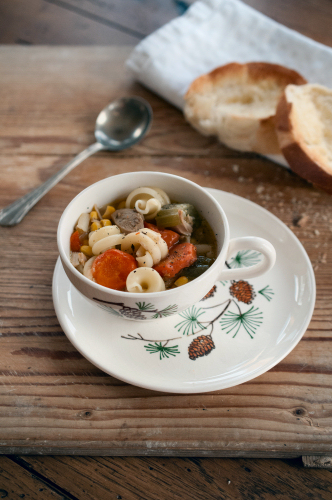 Turkey (or Chicken) Noodle Soup
Looking for a delicious way to use up the leftovers from your turkey feast? Give this tasty soup a try! Read our post for more info...

Recipe
Ingredients (makes 6-8 servings):
2 tablespoons olive oil
3/4 yellow onion, chopped (about 1 1/2 cups)
3 – 4 ribs celery, sliced (about 1 1/2 cups)
3 – 4 carrots, peeled and sliced (about 1 1/2 cups)
8 cups chicken broth
3 – 4 cups cooked turkey or chicken, diced
1/2 teaspoon black pepper
1 teaspoon salt, or to taste (adjust based on broth used)
2 teaspoons dried thyme
1/4 cup fresh parsley, chopped (or alternatively use 2 teaspoons dried parsley)
1 can (15 ounce) whole kernel corn, drained
3 cups egg noodles
Directions:
In a stockpot, heat the olive oil over medium heat.  Add the onion and celery and cook until the onions are tender, about 5 -7 minutes.   Add the carrots and continue to cook for several more minutes.  Add the chicken broth, pepper, salt, thyme, and parsley.
Bring to a boil. Cover, reduce heat until soup is at a gentle simmer and cook for about 30 minutes.  Or longer.  It won't hurt it to sit on the burner and simmer.
About 30 minutes before the you're ready to serve the soup, add the meat and corn and continue to simmer.  Meanwhile, prepare the egg noodles according to package instructions to the al dente stage.
Add the noodles and heat for about 10 minutes before serving.
Total time: 2 hr | Prep: 30 min | Cook: 90 min