The Perils of Happy Hour
Don't let people tell you otherwise.  As a host or hostess, a happy hour can actually be too happy.  Don't get me wrong.  I'm all for happy.  I'm just saying that when you're the one responsible for the meal, you should be aware that apparently there can be too much happy at times.  I know, firsthand, from my recent experience.
I talk a lot about entertaining success being dependent on a good strategy.  Being prepared goes a long way in allowing you, as the host/hostess, to be relaxed — which in turn goes a long way in your ability to be gracious and make everyone feel comfortable and at home.
Yeah, well blah, blah, blah.  I had a good strategy and a good plan.  Our plan was to start with raspberry lemon drops made with Meyer lemons and then gracefully move on to dinner:  roasted chicken, mashed potatoes, buttermilk biscuits and green beans.  Good, simple down home cookin' to ensure everyone enjoyed their dinner and felt right at home.
Fortunately, I had prepped the chicken and started it roasting before happy hour.  I had also made the biscuits, which while not difficult just required a bit of attention.
And then the cocktail shaker started shaking, and all of my good intentions went out the window.  I was happy.  Then just slightly unfocused.  And after several rounds of drinks, I barely got dinner on the table.  I undercooked the potatoes which resulted in lumpy mashers.  I left the biscuits in the oven too long which caused them to be too dark on the bottom.  And the green beans?  Never made an appearance.  I completely forgot to cook them.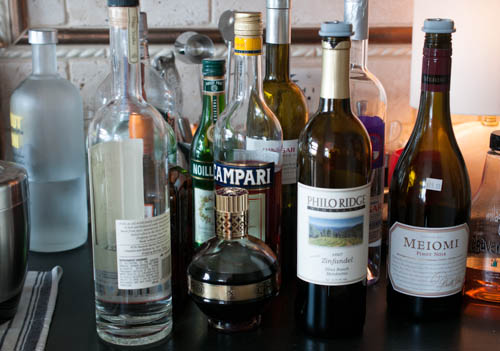 Fortunately, we had several things going for us that evening.  One, our guests are some of our best friends, so they don't judge.  At least not out loud.  Two, they had also indulged in the Bartender's cocktails, so they were as equally happy with the world as I was.  And, lastly, no one actually missed the green beans.