A recipe from EntertainingCouple.com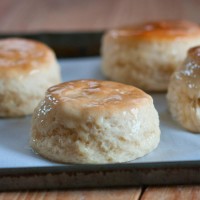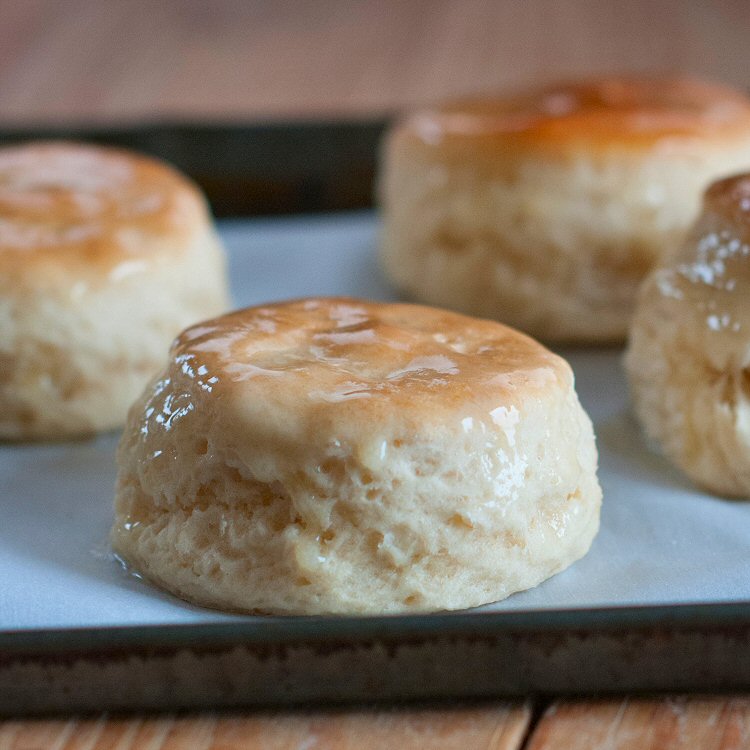 Buttermilk Biscuits
This is our interpretation of biscuit recipes handed down from a day when people still had iceboxes. Because homemade biscuits never go out of style. Read our post for more info...

Recipe
Ingredients (makes about one dozen buttermilk biscuits):
1 1/2 teaspoons active dry yeast
1/4 cup warm water (105 F to 115 F)
2 3/4 cups all-purpose flour
1/2 tablespoon baking powder
1/2 teaspoon baking soda
2 tablespoons granulated sugar
1/2 tablespoon salt
4 tablespoons shortening + 2 tablespoons butter, well chilled
1 cup buttermilk, chilled
3 tablespoons butter, melted
Directions (click here for helpful pictures):
Preheat oven to 400 degrees.
Dissolve the yeast and a pinch of sugar in the warm water and let stand for 5 minutes, or until foamy.
In the bowl of a food processor, pulse the dry ingredients until blended.  Add the chilled shortening and butter and pulse until there are no visible lumps. Add the dissolved yeast and, with the food processor running, slowly add the buttermilk (through the top). The dough will be very sticky and kind of ragged.  At this point, the bowl/dough can be covered with a towel and left to sit for an hour or two until ready to use.
Turn dough onto well-floured surface.  Sprinkle some additional flour on top of the dough.  Lightly roll the dough around until you can easily handle it without it sticking to your hands.  Knead (adding additional flour to the surface as needed to keep it from sticking to the surface) until the dough is no longer too sticky to handle and and slightly smooth, about 7 – 8 times.  Roll out to 3/4 to 1-inch thickness.  Cut out the biscuits using a 2 1/4 inch biscuit cutter, by pressing directly down on the cutter and taking care not to twist as you cut.
Place a piece of parchment paper on a baking sheet.  Place the biscuits on the prepared baking sheet about 1/4′ apart.  Using a fork, poke each biscuit 2 – 3 times.  Cover with a tea towel and let rise in a warm place until they have risen slightly, about 45 minutes.
Bake in preheated oven 10 – 12 minutes or until biscuits are golden brown.  Remove from oven and brush generously with the melted butter.
Hostess' Hint:  Getting the water to the right temperature to activate the yeast (between 105 and 115 degrees) is easier than it may seem.  Just start with a larger amount of water than you actually need, like 1 to 2 cups.  Use an instant-read thermometer to verify it's at the right temperature.  You'll find that, because there's more water, the temperature won't change much after you get it into the perfect range. Then reduce the water to 1/4 cup and add the yeast.
Note:  Total time for this recipe includes 45 minutes standing time for the biscuits to rise after being cut.
Total time: 1.5* hr | Prep: 30 min | Cook: 10-12 min