Summer Spinach Salad
Summer is here, and the proof is in the eating.  It's strawberry season, which means it's salad season in this house.  Honestly, I look forward to strawberry season every year because it means we'll start eating this salad — a lot.  To say that we love this spinach salad is an understatement.  And, whenever we have served it to guests, it's been a big hit every time.  I figure any time you can eat/serve spinach to rave reviews, it's a win/win situation.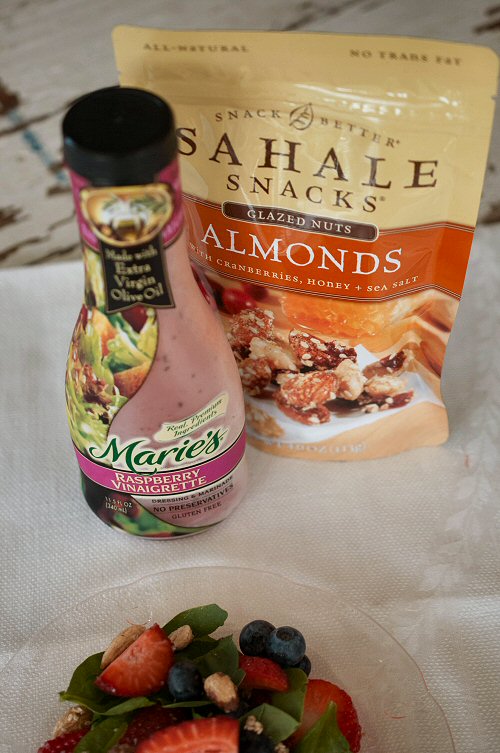 This is a versatile salad.  You can serve it as a starter or side salad, or it can be a main dish spinach salad by simply adding diced roasted chicken.  It will work with any mixture of fresh berries, which means you can make it with whatever berries are in season.  Blackberries, blueberries, strawberries and raspberries are all wonderful options in this salad. For the dressing, we use a raspberry vinaigrette, but I've seen similar recipes that use a poppy seed dressing, which would probably be delicious as well.  And, while we use a nut mix (Sahale Snacks  – almonds with cranberries, honey and sea salt), I think you'd get the same good taste by using almonds and some dried cranberries. See, versatility in a salad bowl!
I use the spinach in the bag, the stuff that's already washed.  Makes this salad super easy to make, which is one of my favorite things when I'm trying to get dinner on the table for 2 or 10.
The inspiration for this recipe comes from a salad I had a few years ago at the Nordstrom Cafe.  It was so tasty and fresh, I wanted to make something similar at home for us and guests.  Because the ingredients were so simple and basic, it was easy to replicate.  I think you'll find it's an easy, and delicious salad.  And, did I mention that it's healthy, too?
Happy Entertaining!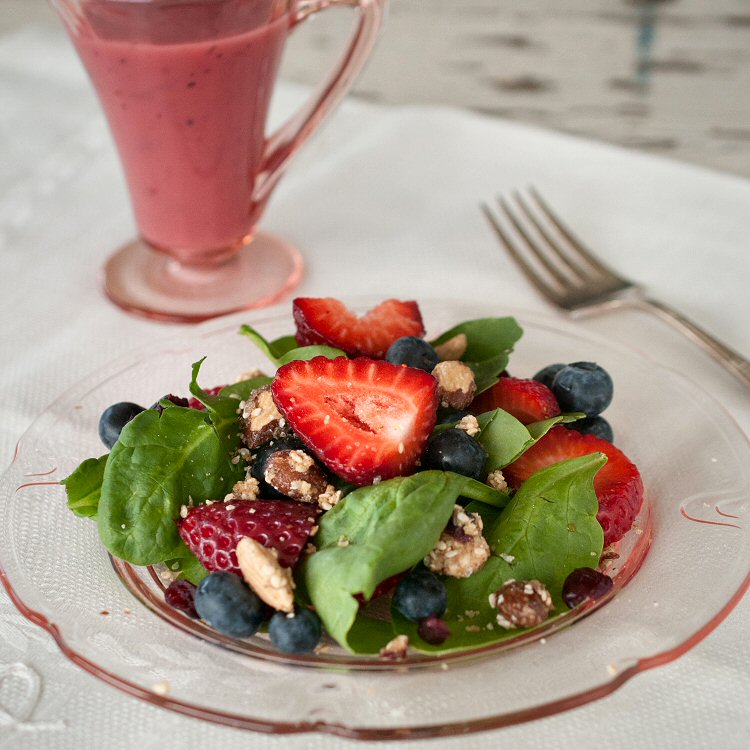 Click here to get recipe