Soup's On!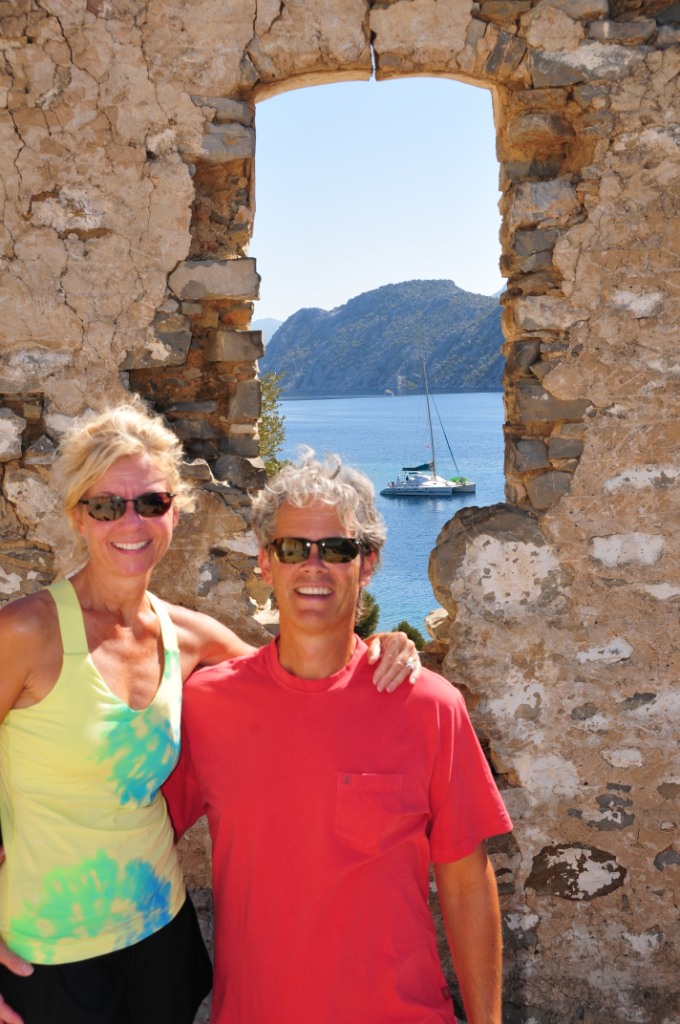 We've just returned from a 3-week vacation in Turkey where, among other things, we spent a week on a boat cruising the Turquoise Coast.  The boat came with a captain and first mate, and I dare to say we may have met the Ultimate Entertaining Couple.  All week, we (Jon and I and our two friends) sat idly by while Andy (the captain) and Lou (the first mate) did all the work manning the boat, cleaning the boat, getting us in and out of harbors and docks, and feeding us.  And feed us they did.  The food was delicious and ample (as I feared my rear-end was becoming after eating it for a week).  For someone who is accustomed to being hostess and cook, I was pleasantly surprised how easily I relinquished the role to someone else.  Apparently, even the control freak in me was on vacation.
One day Lou served us a Tomato Basil soup that we all loved.  We raved and then, of course, asked for the recipe, which she generously shared with us.  As Margaret and I frantically took notes, she rambled off the recipe, which sounded something like this:  "Let's see, I use onion and four tablespoons of butter, and about 2 tablespoons of olive oil.  Oh, and garlic.   And about  a cup of white wine.  Of course, tomatoes.  And, let's see, what else do I use?"  She actually gave us a pretty good description even from memory; enough to give me the basics (and inspiration) for sure.
We arrived home from our trip to a beautiful Indian summer.  The days are warm and sunny but the mornings and nights are cool and a reminder that summer is behind us.  And, for me, nothing ushers fall into being quite like a pot of soup on the stove.  With my notes fresh from Lou's recital, I was dying to try her soup for myself.  To make sure I understood the right ingredients and process for her recipe, I Googled recipes and came across several renditions of a recipe for "Nordstrom's Famous Tomato Basil Soup," which as it turns out is quite similar to Lou's.  So, my recipe is a compilation of the the two and the result, if I do say so myself, is a creamy, flavorful and hearty soup that will definitely be added to my fall/winter repertoire.
What I learned when making this soup.  One, I'm a big fan of simple cooking.  If I can just use one pan or one bowl, I'm a happy cooker.  Unfortunately, this recipe makes a little bit more of a mess than I would normally like because of the puree step.  I may try to use my immersion blender next time, which will cut out the use of the conventional blender, but I was really happy with the texture I got with the blender.  So we'll see.  And, because the recipe makes enough soup for 8, I had to do the pureeing in batches, which required yet another bowl to be used after the blender and until I had emptied the pot.  My process was:  Ladle the soup from the pot to the blender until the blender was about 3/4 full, puree, and then pour the pureed soup into a large bowl (with pouring spout).  Repeat 3 times.  But honestly, I think the end result was worth the extra washing required.  The other thing I learned was that, because the soup needs to cool slightly before putting it in the blender or food processor, there is a span of time when you're just waiting.  Or, in my case waiting and stirring/blowing the soup trying to hurry along the cooling process.  If you're planning this for a dinner party (or even dinner at a certain time), I would recommend making the soup ahead of time if possible.  Get all the way through the puree part.  Then, all you'll need to do to serve it is add the cream and reheat it.  We refrigerated the leftovers and it made for great leftovers as well.