A recipe from EntertainingCouple.com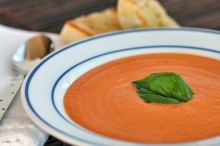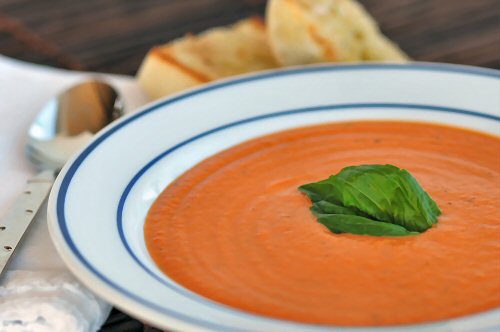 Recipe
Ingredients:
4 tablespoons olive oil
4 carrots, peeled and sliced (about 1/2″ slices)
1 large yellow onion, chopped
4 tablespoons butter
1 tablespoon dried basil
2 cloves garlic, chopped
3 28-oz cans whole peeled Roma tomatoes (do not drain)
4 cups chicken stock
1 cup dry white wine
1 cup heavy cream or Mexican creme
Salt and pepper to taste
Directions:
In a stock pot, over medium-high heat, heat the olive oil until shimmering.  Add the sliced carrots and chopped onion and cook until the vegetables begin to soften, about 10 minutes.  Add butter, basil and garlic and cook until the vegetables are completely softened, about another 10 minutes.
Add the tomatoes, chicken stock and wine; bring to a boil and then reduce heat to low and simmer for about an hour.
Allow the soup to cool slightly, and then transfer to a blender or food processor and puree until smooth.  (You may have to do this in batches.)  Return the pureed soup back to the pot.  Add some warm soup to the cream to temper (to ensure the cream doesn't curdle) and then add the cream to the pot.  Add salt and pepper to taste.  Reheat over medium heat (but do not allow it to boil).  Serve warm.
Total time: 2 hr | Prep: 30 min | Cook: 90 min