Resurrection of an old favorite cocktail: Grape Nehi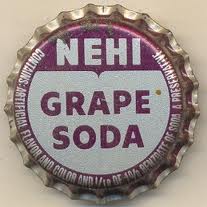 Those old enough to have been a fan of the 70's TV series M*A*S*H may remember that Nehi Grape soda was Radar O'Reilly's favorite drink.  As a kid at that time, I'd never heard of Nehi anything.  The only soft drinks I was aware of in those days were Coke, Pepsi, 7-Up, Orange Crush, and a bunch of crazy-ass "Cragmont" flavors that my parents would get at Safeway (24 cans for a buck).  I figured Nehi Grape was a mid-century relic that the creators of M*A*S*H had dragged up for historical authenticity, that it probably wasn't very good since I'd never seen it myself, and I seldom gave it another thought.
Then, in the early 90's, we were at one of Seattle's yuppie watering holes with a dear friend of ours who insisted that we just had to try his new favorite drink, a "Grape Nehi," and he ordered a round.  From my earlier preconceptions, I was expecting a sticky-sweet artificial-grapey-flavored mess of a drink, and was surprised to instead be presented with a gorgeous translucent purply-pink cocktail served "up" in a martini glass.  The first sip was a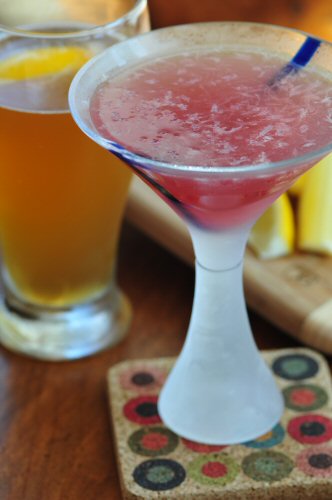 stunner: tart and lemony, ever-so-lightly carbonated, and balanced by a subtle dark berry finish that just begged another taste, then another round.  The Grape Nehi quicky became a fast friend of our happy hour crowd.  It was customary to order yours alongside a pint of locally-brewed Heffeweizen.  Something about the tart carbonation of the wheat beer melded perfectly with the flavor of the Grape Nehi.  I wheedled the recipe out of a bartender friend and for a couple of years this was nearly the only cocktail I ever made.  I even worked out the proportions for mixing up a large batch in a pitcher (an approach that's definitely not recommended if any of your guests will be driving home!).  I never did come across an actual Nehi Grape soda but was always happy I could explain where the cocktail's name came from.  Eventually, we all moved on to other cities and other cocktails and the Grape Nehi faded into the background.
A couple weeks ago we found ourselves reminiscing on our Grape Nehi era.  I decided to try mixing up a batch and realized I didn't really remember the recipe all that well.  It actually took several iterations before hitting on the right proportions.  In the process I learned that, unlike many liquors, Chambord's flavor does not stay fresh more than a couple months after it's been opened.  That had never been a problem two decades earlier (when I could barely keep it in stock) but the dusty half-bottle I dug out from the back of my bar resulted in what one guest called a "Prune Nehi."  After an emergency trip to the liquor store and a few more practice rounds, I think my updated recipe is even better than the original.  I hope you enjoy it as much as we do!
To be true to the classic, I suggest serving your Grape Nehi accompanied by a pint of good wheat beer, a two-fisted presentation that's guaranteed to jump-start your happy hour.  Cheers!
Click here to get recipe