A recipe from EntertainingCouple.com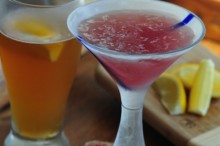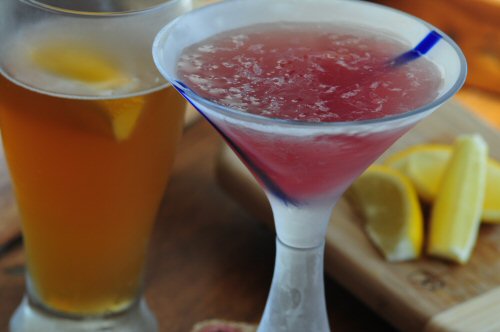 Grape Nehi
Our delicious Grape Nehi cocktail is purple, cold, and lightly carbonated, but otherwise bears little resemblance to the soda pop it's named for. Read our post for more info...

Recipe
Ingredients (serves 4):
One ripe lemon, cut into slices
6 ounces vodka
3 ounces Chambord
2 tbsp agave nectar (or simple syrup)
Club soda
Ice
Directions:
Place the cut up lemon into the metal side of a Boston-style cocktail shaker.  Add the agave nectar.  Muddle until the lemon is well juiced.
Fill glass side of shaker with ice.  Add vodka and Chambord.
Pour contents of the glass side into the metal side of shaker, join the two sides, and shake briskly for 20-30 seconds.
Tip contents into metal side; remove glass side.
Top metal side with an inch of club soda.
Gently stir in the club soda, being careful not to cause it to foam.
Strain into chilled martini glasses and serve.
Bartender's hints:  The lemon flavor really shines in the Grape Nehi cocktail, so try to select lemons that are ripe and soft.  If you find the flavor of the Chambord to be too prevalent, add more lemon.  Also, do not add the club soda before shaking your Grape Nehi as it will fizz up and make a mess of your bar!
Total time: 5 min | Prep: 5 min | Cook: N/A