A recipe from EntertainingCouple.com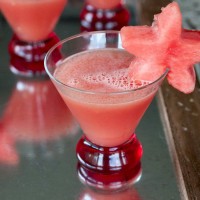 Watermelon Martini
When fresh watermelons are in season, cut up some chunks and make these cocktails! They're bright, crisp, and fruity with the taste of summertime. Read our post for more info...

Recipe
Ingredients (makes 2 servings):
1 cup ripe watermelon, cut into chunks
1/2 ripe lime
1 tsp agave nectar (or simple syrup)
3 ounces vodka
1 1/2 ounces Cointreau
Ice
Directions:
Put the watermelon chunks into the glass side of a Boston-style cocktail shaker.
Squeeze in the lime half.
Add agave nectar.
Muddle until watermelon has become juice.
Fill metal side of the shaker with ice.
Add vodka and Cointreau.
Pour the glass side of the shaker into the metal side, combine the sides, and shake briskly for 10-15 seconds.
Strain the watermelon martinis into chilled martini glasses.
Bartender's hints:  We've served large batches of watermelon martinis by pureeing 8 cups watermelon (about 1/2 of a medium-sized melon), the juice of 4 limes, and 4 tsp agave nectar in a blender.  Fill a large shaker with ice, add 4 shots vodka and 2 shots Cointreau, top with watermelon puree, shake, serve, and repeat! These proportions will yield about 16 watermelon martinis.
Also, you may find you need more (or less) agave nectar, depending on the sweetness of your watermelon.  If the watermelon tastes really, really sweet by itself, start with with half the amount of agave nectar.  You can always add more!
Total time: 10 min | Prep: 10 min | Cook: N/A