Watermelon Martini – Summer Food in a Martini Glass!
If you're a regular reader of our blog, you know how the Hostess can go on and on during this time of year about "summer food."  She really, really loves fresh, locally grown produce, and her summertime meals make ample use of the vegetables, berries, and seafood from the seasonal harvest.
Debbie's love of summer flavors carries over to our cocktail recipes.  I've heard her exclaim, on numerous occasions while sampling fresh-picked fruits, "Wouldn't this make a great cocktail?"  So it didn't surprise me a couple summers ago when, after we'd cut into a fresh, sweet watermelon, she suggested that I should come up with a recipe for a watermelon martini.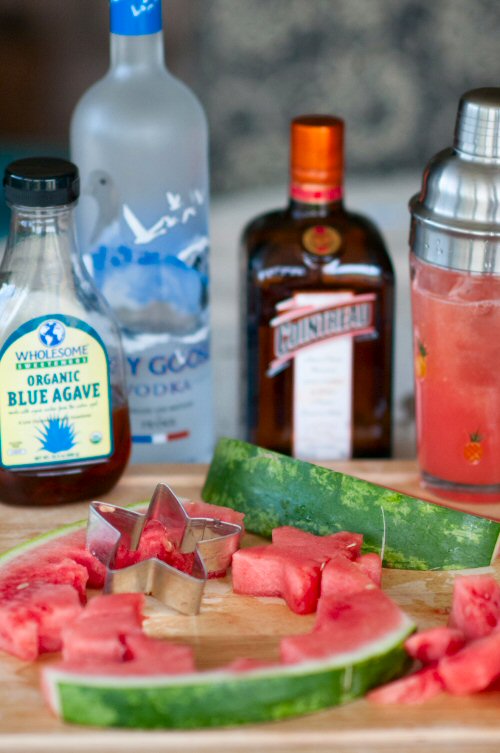 It's always a fun challenge to try to come up with a cocktail from a new ingredient, and this time was no exception.  I started with two parts vodka and one part Cointreau (that combination never lets me down as the basis for a good fruit-based cocktail).  The trick was finding the perfect balance of flavors for the watermelon-based mixer.  I started by muddling some watermelon, and was amazed at the amount of juice that comes out of a relatively small amount of melon (hmm, I guess that's why it's called a watermelon).
The watermelon juice was tasty, but the watermelon's mild flavor wasn't robust enough to keep from being overwhelmed by the liquor without a little help.  I've learned that a squeeze of citrus helps to smooth out a fruit-based cocktail, and in this case lime proved to be the best choice.  The tartness from a little fresh lime juice enhanced the watermelon's flavor without covering it up.  Kind of like the way watermelon candy tastes good because it's tangy, even though natural watermelon is sweet, not tart.  A tiny amount of agave nectar brought the cocktail's flavor together perfectly. Success!
We've served quite a few rounds of our watermelon martinis the last couple years, and I dare say it may be our best summer cocktail.  It tastes like biting into a fresh-picked watermelon.  The vodka and Cointreau give it a smooth finish and they complement the watermelon's flavor perfectly.  This cocktail is refreshing and not too sweet, so you're craving a refill even before your glass is empty.  It's summer food in a martini glass!  Just remember that the watermelon martini is a full-strength cocktail, so be a responsible host and don't over-serve!
Cheers!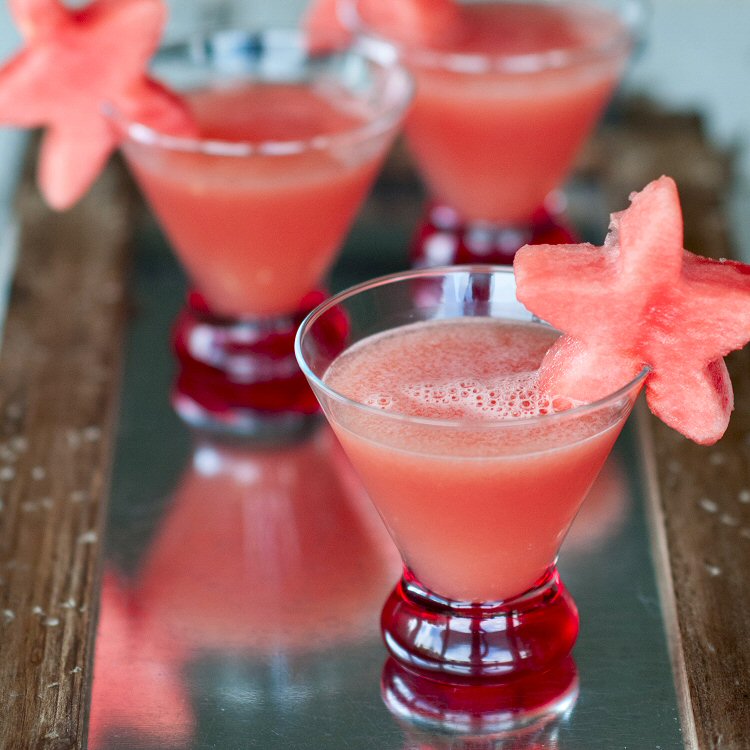 Click here to get recipe