A recipe from EntertainingCouple.com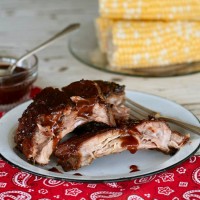 Pork Baby Back Ribs
We prepare our baby back ribs by first baking them in the oven, then letting them stand overnight in the fridge, and finally finishing them on the barbecue. Read our post for more info...

Recipe
Ingredients (makes 2-4 servings):
3 – 4 pounds pork baby back ribs (one "full rack")
12 – 14 cloves garlic, peeled and thinly sliced
Pork seasoning or rub*
1 cup hickory chips (find at your grocer's next to the charcoal briquettes)
Barbecue sauce
Directions (see our post for detailed steps and pictures):
Begin the day before you plan to serve the ribs.
If necessary, peel the membrane from the rack of ribs.
Preheat oven to 300 degrees.
Place ribs in a shallow roasting pan.  Scatter the garlic over the ribs.  Cover with foil and bake for 2 1/2 hours.  Remove from the oven and cool.
Using a butter knife, spread the softened garlic over the ribs.  Sprinkle the ribs with the pork seasoning or rub.  Cover, and refrigerate overnight.
About 3 hours before you plan to eat, remove the ribs from the refrigerator.  Place the hickory chips in a bowl of water.
Wait about 30 minutes, then prepare your grill for indirect cooking*.
When your grill is warm, place the rack of ribs on the grill where it's not directly over the heat source.  If your type of grill permits, add 1/2 inch water to a foil pan and place under the ribs.
Drain half the hickory chips.  If using a charcoal grill, place chips directly on the coals.  If using a gas grill, wrap chips in aluminum foil and place on your grill directly over the gas flame.
Close grill lid.  When hickory smoke dies down (after 15-20 minutes), repeat the step above with the remaining hickory chips.
Keep lid closed and monitor the grill temperature closely (adding briquettes occasionally if using charcoal).  Open or close vents as necessary to maintain the temperature at 225 degrees, no warmer than 250 degrees.
Grill ribs for two hours.  Baste with barbecue sauce once or twice during final 30 minutes.  Remove baby back ribs from the grill and allow to stand for 10 minutes before serving.
Divide ribs into groups of 2-3 by slipping a sharp knife between the rib bones.  Serve with barbecue sauce (plus lots of napkins, and a bowl for the bones!).
*Hints:
Pork seasoning rub:  We get great results with several off-the-shelf pork rubs (such as Stubbs or Grill Mates), so we don't offer a recipe of our own.  There are many recipes on the web if you'd prefer to make one with your own ingredients.
Indirect grilling:  The Bartender swears by his Weber charcoal grill.  He starts with 12 briquettes on each side of the kettle and adds 4-6 briquettes to each side after 60 minutes.  If using a gas grill, follow your instructions for indirect grilling and strive to keep the temperature low.
*Note:  Total time to complete this recipe does not include overnight standing time.
Total time: 5* hr | Prep: 30 min | Cook: 4.5 hr