A recipe from EntertainingCouple.com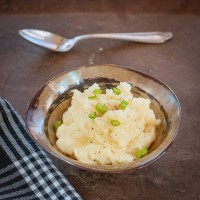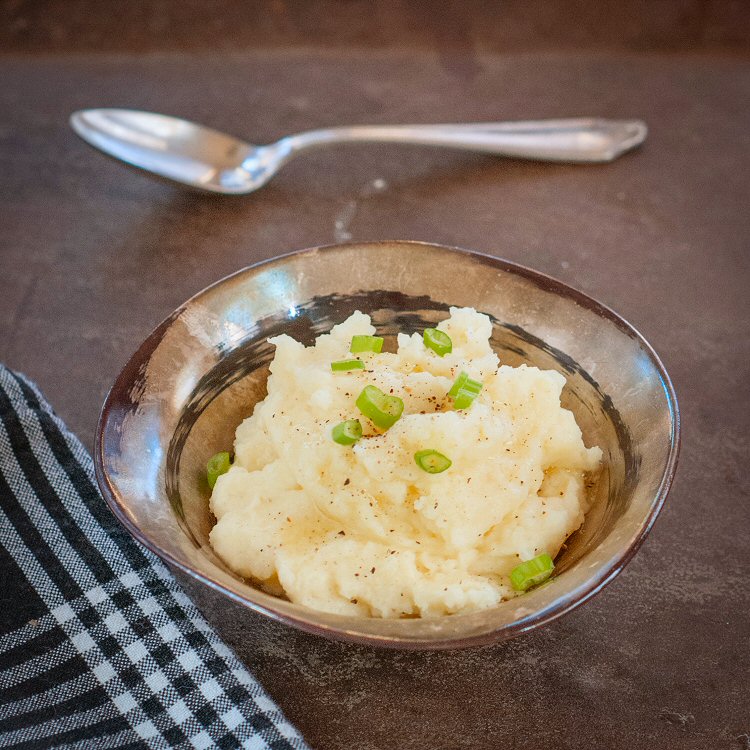 Mashed Potatoes
All I wanted was creamy, flavorful mashed potatoes. It took some research, and some trial and error, and I've finally mastered them. Read our post for more info...

Recipe
Ingredients (serves 2 -3; this recipe is easily doubled or tripled):
2 large Russet (or similar waxy) potatoes
1 teaspoon salt
1/2 cup half & half
6 tablespoons butter
Pepper
Green onions (optional)
Directions:
Peel the potatoes.  Cut the potatoes into large, evenly-sized pieces.
Place the potatoes in a saucepan and cover with and inch or two of cold water.  (Starting the potatoes in cold water helps them cook more evenly.)  Add the salt to the water and give it a stir to dissolve it.
Over medium-high heat, bring the water to a boil.  Once the water begins to boil, reduce the heat to simmer. Do not cover.
Check the potatoes after about 10 minutes of cooking.  Test for doneness by using something sharp (fork or paring knife).  When done, the potatoes should be easily pierced.  I found that for best results with a potato ricer, the potatoes need to be very tender, almost to the point of falling apart.  On my stove, this is about 25 minutes.
Over a very low heat, heat the half & half and butter until bubbles form around the edges and butter is melted.
Drain the potatoes into a strainer.
Depending on the size of your ricer, load a few pieces and a time and puree (using the fine setting, if you have options) into a bowl or back into the pan.
Add the warm cream and butter mixture and stir until combined.
Garnish with a sprinkle of black pepper and thinly sliced green onions (optional).
Serve the mashed potatoes immediately.
Total time: 45 min | Prep: 20 min | Cook: 25 min