Back To Basics: Really Good Mashed Potatoes
Soufflés are to the culinary world what Mt. Everest is to the mountaineering world:  The ultimate proof of skill, tenacity and a whole lotta spare time on one's hands.  Mastering either a soufflé or Everest seems like a pretty legitimate differentiator between an amateur and a bonafide, dedicated master.  Personally, I've never had much desire to tackle either of them.  Call it lack of ambition or just plain laziness, but the achievement of either attempt seems a little overrated to me.
However, I'm not without my own aspirations.  And, perhaps while my efforts don't come with the same bragging rights, I still find reasons to occasionally blast the triumphant trumpet and shout, "Ta-daaaaa!"  Maybe it's because I'm a take-it-or-leave-it fan of the soufflé, but I've never had much desire to master the art of making one.  For me, my culinary mountain is not the soufflé but rather the humble mashed potato.
Growing up, we ate a lot of mashed potatoes in our house.  We were a meat-and-potatoes family, and mashed potatoes seemed to be the tater of choice.  (I don't think Dad liked the "fuss" of a baked potato.)  There was even a span of time when our potatoes came out of a box and were "mashed" by simply adding liquid to the dehydrated potato flakes.  I think that was about the same time that Tang replaced the real orange juice in our house.  Thankfully, later on, Mom left the space program and came back around to using real potatoes.
I think I got serious about making mashed potatoes when we started hosting Thanksgiving at our house.  The first few years, I was so concerned about making good, lump-free gravy, I never even gave the potatoes a second thought.  Because, after all, making mashed potatoes is simple, right?  Even the name implies that all you do is mash them.  But, then, as people gathered around the table, I invariably found myself cheerfully saying, "Hope everyone likes a few lumps in their potatoes!"
Short of using dehydrated potato flakes, I think I've tried just about every possible technique to make mashed potatoes.  I've mashed them by hand using a potato masher, just like Mom used.  I've used a hand blender and a hand mixer.  But I never got the consistency that I was after.  All I wanted was creamy, flavorful mashed potatoes.
Then I read Jenny Steffens Hobick's blog about using a potato ricer.  (You can read her blog post here.)  I had read about using ricers before (Alton Brown highly recommends them as well), but quite frankly I just imagined it being another kitchen gadget taking up space in my kitchen drawers next to the hand blender and hand mixer.  But I was intrigued enough to try a ricer.  I bought the OXO Adjustable Potato Ricer
, which I find easy to use.  But there are many options out there.  This particular ricer is adjustable in that you can turn the dial to determine the size of the puree, from fine to course.  I found that the fine setting produces the best version of lump-free, creamy potatoes.  (If you like a few lumps, then use the medium or coarse setting.)
I'm here to report that I'm a convert.  I had anticipated that the ricing process would be slow and cumbersome, but it's not.  I cook the potatoes in chunks, and after draining off the water, I just put a couple of chunks at a time through the ricer.  The whole process takes just a few minutes, no longer than mashing or mixing ever took.  I then add the warm cream and butter, and it just takes a few good stirs with a wooden spoon to cream the potatoes.
There are differing opinions about which is the best potato to use (I use Russets), or whether you should peel the potatoes before or after you cook them (I do it before).  I also find that heating the milk (I use half & half) and butter before adding it to the potatoes works well.
I've long said I've never met a potato I didn't like.  But, let's admit it, some are better than others.  And, now I've finally found a made-at-home mashed potato that is really, really good.  And, while a boiled/mashed potato may not have the same sex appeal as a soufflé, it's hard to deny that it's pretty darn good eating.
Here are some good how-to tips on how to boil potatoes from The Kitchn.  (You can read the full blog post here.)
How To Boil Potatoes
Prepare the potatoes:  Scrub the potatoes clean.  If desired, cut the potatoes into large, evenly-sized cubes.
Transfer the potatoes to a saucepan and cover with cold water:  Cover the potatoes with an inch or two of cold water. Starting the potatoes in cold water helps them cook more evenly.
Stir in a teaspoon of salt:  Stir the salt into the water so that it dissolves.
Bring to a boil, then reduce to a simmer:  Set the pan over medium-high heat and bring the water to a boil.  Once boiling, reduce the heat to a bare simmer to cook the potatoes.  Do not cover.  (Covering changes the environment in the pot and can make the potatoes turn mushy.)
Check the potatoes after 5 minutes:  Cubed potatoes will cook more quickly than whole potatoes; smaller potatoes will cook more quickly than larger potatoes.  Begin checking the potatoes after around 5 minutes of boiling; most potatoes will be done in 10 to 20 minutes.
Potatoes are done when tender:  The potatoes are done when they are tender all the way through.  You can test this by poking the potato with a fork, paring knife, or skewer.  If the utensil slides easily all the way to the center, the potatoes are done.
Drain the potatoes:  Drain cubed potatoes into a strainer or lift whole potatoes out with a slotted spoon.  If you're recipe calls for cold potatoes, you can run the potatoes under cold water or dunk them in an ice water bath to cool them down more quickly.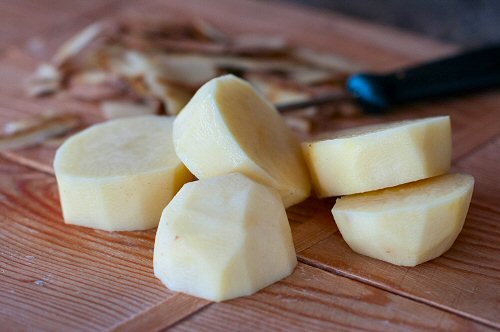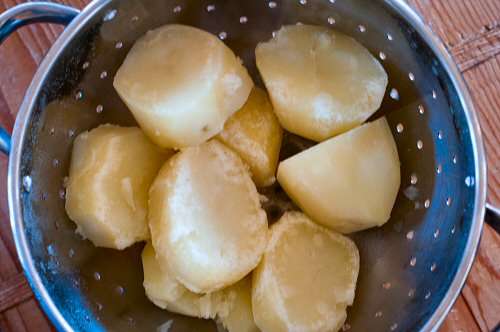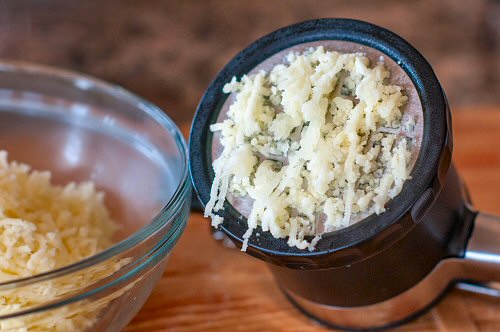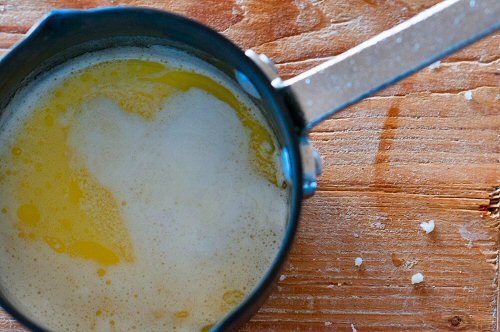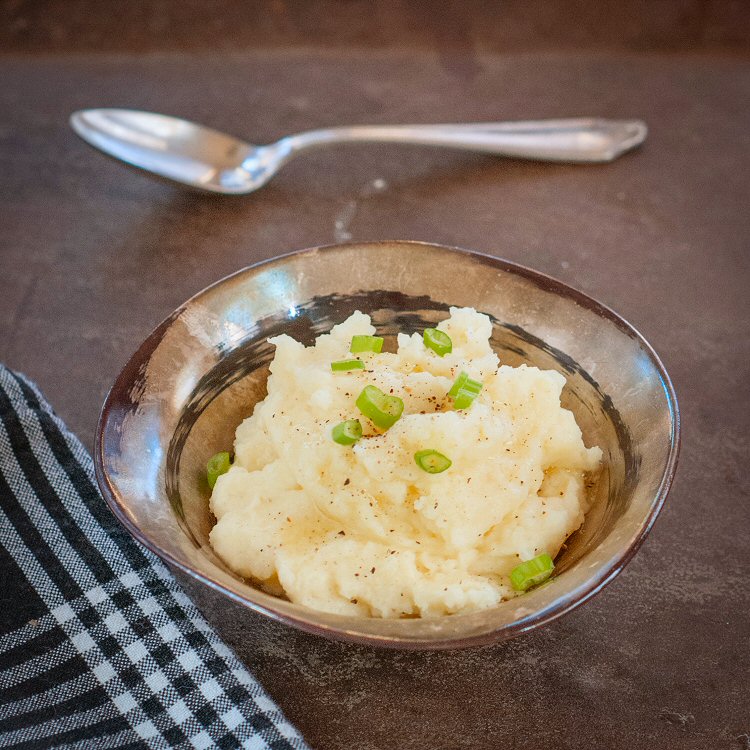 Happy Entertaining!
Click here to get recipe