A recipe from EntertainingCouple.com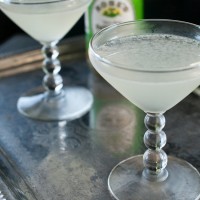 Kamikaze
The Kamikaze is an outstanding coctktail, in spite of its "let's do shots!" reputation left over from the 80's. Try one today: Shake it, sip it, serve it as a cocktail! Read our post for more info...

Recipe
Ingredients (makes 2 cocktails or 4-6 shooters):
4 1/2 oz (3 shots) vodka
1 1/2 oz (1 shot) Cointreau
1 1/2 oz (1 shot) Rose's Lime Juice
1 lime
Ice
Directions:
Fill cocktail shaker with ice
Cut lime in half.  Squeeze juice of both halves into the shaker.
Add vodka, Cointreau, and Rose's Lime Juice.
Shake briskly for 10-15 seconds.
Strain into chilled martini glasses (or shot glasses if your guests want shooters)
Bartender's hint:  Any good vodka works great with this recipe, but if you can find it, Hangar 1's Kaffir Lime vodka makes an outstanding Kamikaze!  Use the same proportions as above, substituting one shot of vodka with the Kaffir Lime vodka to create a smooth, balanced Kamikaze with an interesting herbal note.
Total time: 5 min | Prep: 5 min | Cook: N/A