A recipe from EntertainingCouple.com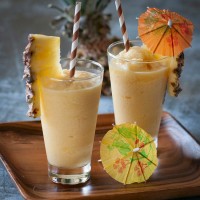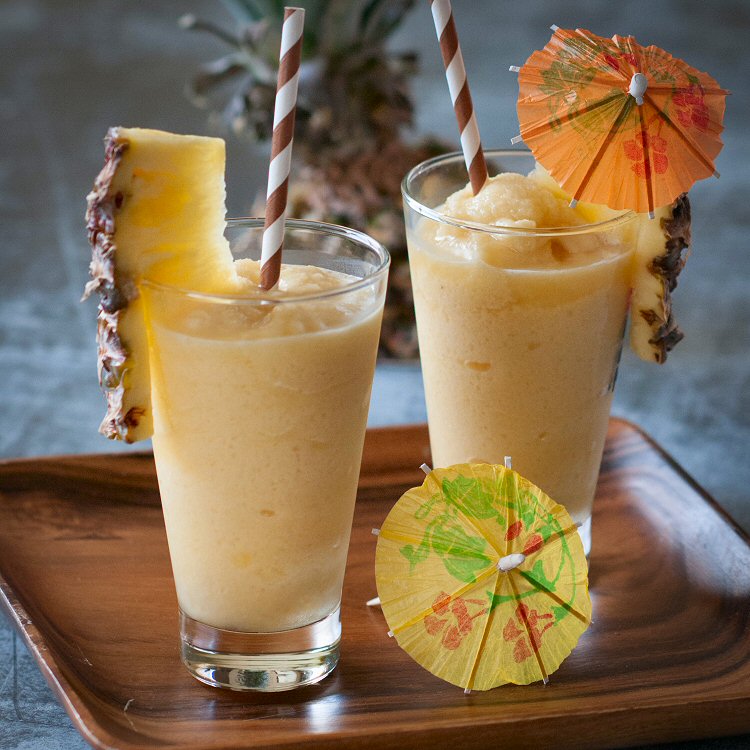 Frozen Pineapple Daiquiri
Set a tropical mood for happy hour with our Pineapple Daiquiri. It's thick, creamy, and smooth with all the flavors of an island vacation. Read our post for more info...

Recipe
Ingredients (makes two 10-ounce servings):
1 lime
1 1/2 ounces cream of coconut
6 ounces dark rum
2 cups frozen pineapple chunks
1/2 cup ice cubes (4-5 cubes)
Directions:
Roll lime to soften and release its juice.  Cut lime in half and squeeze the juice of both halves into a blender.
Add cream of coconut, rum, frozen pineapple chunks, and ice cubes.
Blend on low until ingredients are mixing well, then switch to high and blend for 1-2 minutes smooth and creamy.
Serve in wide glasses with straws; garnish your frozen pineapple daiquiris with a fresh pineapple spear.
Bartender's Hint:  We recommend using frozen pineapple in our pineapple daiquiri, for two reasons:  It's easy to always have a bag of frozen pineapple on hand in your freezer and, because the pineapple is already frozen, you'll need very little ice — so this cocktail's ingredients won't separate as the ice bits melt.  The result is a smoother, creamier, richer frozen pineapple daiquiri than you'll find anywhere else!  If you want to use your own fresh pineapple, cut it into small chunks (1″ or less), spread out onto a sheet of wax paper, and place in your freezer for a couple hours (or overnight).
Total time: 10 min | Prep: 10 min | Cook: N/A