Pineapple Daiquiri – A Happy Hour Trip to the Tropics
It's that time of year when, for many of you, warm sunny weather just can't get here fast enough.  So, we're here to help.  Straight from our home bar to yours, here's a solution for making it feel just a little bit tropical right in your own home. During happy hour, anyway.  We've perfected the recipe for a Tiki-bar staple:  The Frozen Pineapple Daiquiri.
To set the record straight, we're not really big on fancy, frou-frou cocktails around here.  And we don't drink much rum.  But Debbie does, ever-so-occasionally, like to blend up something tropical. (She has an outstanding Piña Colada recipe that we'll share with you someday).  This week she was craving something pineapple-y. Specifically, a pineapple daiquiri.  We already had limes, frozen pineapple, and cream of coconut on hand, so I dug through our bar and found a few bottles of rum.  (Just because we don't drink much rum doesn't mean we aren't prepared to provide our guests with that option.  We're not savages, after all…)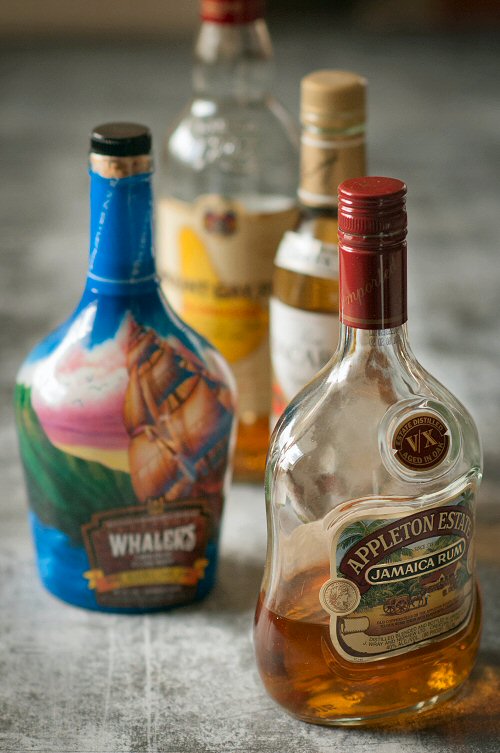 Debbie got a chuckle out of what I did next.  I uncapped the bottles, lined them up, and took a sniff from each one.  I wanted to find the one that smelled perfect for a daiquiri, and one of them (an unassuming bottle of Whaler's Original Dark) had exactly what I was looking for:  A warm, sweet whiff of rum that gave me an intense flashback of sitting barefoot on a bamboo bar stool, under a thatched roof on a sandy beach, breathing in the humid, floral-scented tropical air, and sipping a frosty umbrella-garnished rum cocktail.  Just the kind of place where, if you can't get there physically, the taste of a daiquiri should take you to in spirit.  So I fired up the blender, poured in the Whaler's, and after a few minutes of experimentation we were enjoying two perfect pineapple daiquiris.  The key to the recipe, we decided, is using frozen pineapple rather than fresh. Frozen fruit in a blended drink results in a perfectly smooth and creamy cocktail that's good all the way to the last sip (not much ice is needed, so the ingredients don't separate as the ice melts).  These pineapple daiquiris turned out so tasty that we couldn't resist heading "back to the beach" a couple nights later.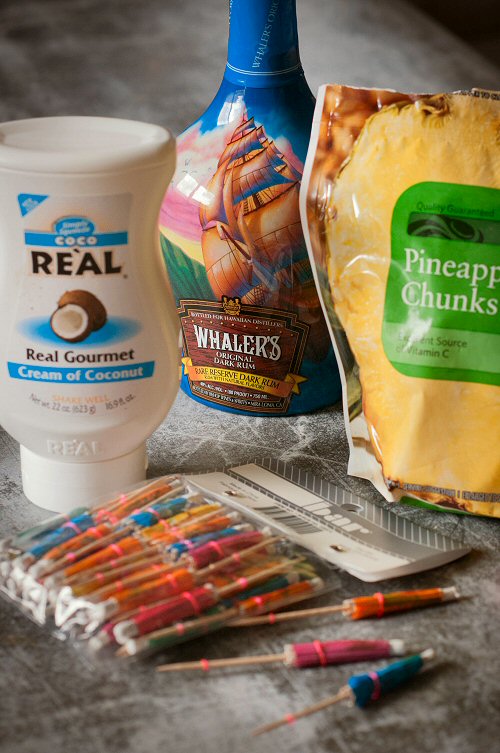 If the blustery weather has an evening at your own private beach bar sounding good to you right about now, give our recipe a try.  It may be the easiest tropical cocktail you'll ever make.  All you need is a blender, limes, a bottle of dark rum, a bag of frozen pineapple chunks, and some cream of coconut.  Oh, and to really set the mood, stock up on neon straws, tiny cocktail umbrellas, and mugs that look like coconut shells or statues of Tiki gods.  It's like taking a spring break trip to Hawaii, minus the red-eye flights.
Cheers!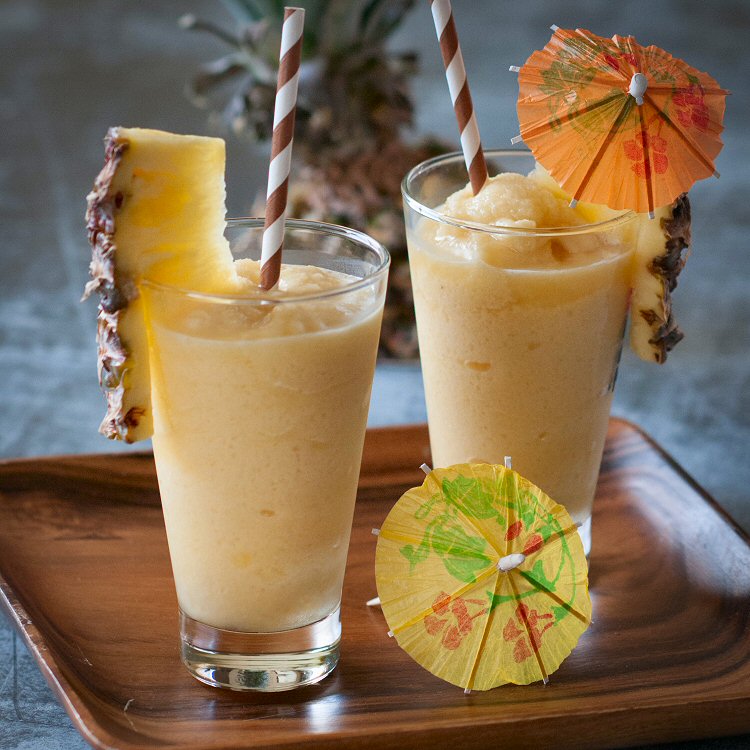 Click here to get recipe