A recipe from EntertainingCouple.com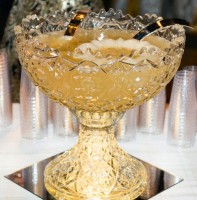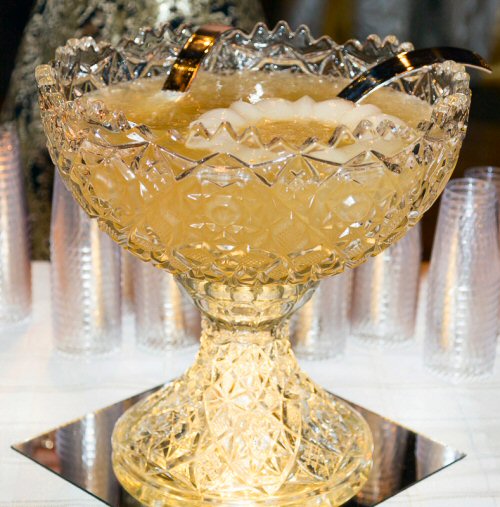 Recipe
Ingredients (makes 14-15 five ounce servings):
12 oz London dry gin
5 oz simple syrup
6 oz fresh lemon juice (about 4-5 ripe, medium-sized lemons)
2-3 dashes orange bitters
One 1.5 liter bottle sparkling dry white wine or dry Champagne, well chilled
Large ice cubes, or an ice ring
Directions:
Juice the lemons, straining out any seeds, into a mixing bowl.
Add the gin, simple syrup, and orange bitters.  Stir.
If time allows, refrigerate for 1-2 hours.
To serve, pour gin mixture into a punch bowl.
Add ice, then add the Champagne.  Stir gently and serve.
Bartender's hints:  You don't need to spend top dollar for ingredients; this punch tastes great using "budget" ingredients such as Costco's Kirkland-brand London dry gin and Cook's Champagne.  Also, when we can find it, we use Tres Agaves brand organic Agave Nectar in place of simple syrup.  It gives the punch a rich golden color.
If you're hosting a large group, this recipe can easily be scaled up to serve 30-40 people or more (trust us, we've done it).  Increase proportions as follows:  One 1.75 liter bottle of gin, one 750 ml bottle of simple syrup, 20 lemons, 1 tsp orange bitters, and five 1.5 liter bottles of Champagne will yield about 75 servings.
Note:  Be careful not to over-serve your guests.  In spite of its smooth, refreshing taste, this French 75 Punch is a proper cocktail and it can deliver an unexpected kick.
Total time: 15 min | Prep: 15 min | Cook: N/A