Dress Up Your Punch Bowl With An Ice Ring
Punch for parties.  Talk about something that has been around forever.  A quick search on the internet told me that the concept of punch originated in India (originally called "paantsch") and was brought to England by sailors.  The word meant "five" in Hindi and described the 5 ingredients found in the punch.  Several hundred years later, and by the time I got to college, the concept of punch had slightly morphed into something we all called "Spodie Odie" which was a mixture of several kinds of alcohol, fruit juice, and cut up pieces of fruit.  There seemed to be no concern as to what kinds of alcohol were used.  Nor did anyone seem to care that the punch bowl was actually a large garbage can.  It wasn't until years later that I found myself hoping that someone had actually washed the garbage cans before they were used for our punch.
After college, my mom gave me her punch bowl.  A pretty glass bowl and stand with matching cups.  It was already fairly well used by that point, having served duty at various parties over the years.  Every year at Christmas, Mom made her homemade eggnog in it.  After it was bequeathed to me, for the next 20 or so years that punch bowl continued to get a lot of use, both at parties I hosted as well as the many times I loaned it to friends.  Nowadays, it isn't used as frequently but still finds a purpose at an occasional party.
I love this quote from 1832:  "The punch-bowl was an indispensable vessel in every house above the humblest class.  And there were many kindly recollections connected with it, it being very frequently given as a present.  No young married couple ever thought of buying a punch-bowl; it was always presented to them by a near-relative."
Along with the punch bowl, I acquired the art of making an ice ring.  I'm pretty sure the English in the 1700's did not make ice rings for their punch.  But it's not a new concept for me.  I'm not even sure how or where I learned to make one.  It's just something that I know how to do.  And, since it seems like something a good host or hostess should have in their entertaining bag of tricks, I'm sharing the how-to with you.  Ridiculously simple to do yet something that always gets remarks at a party.  ("How did you make that???"  It's somewhat embarrassing to admit all I did was freeze water.  It makes me wish it really was a little more difficult to do.)  But, most importantly, it solves the problem of keeping a punch cold without using ice cubes, which melt more quickly than an ice ring and dilute your punch somewhat.
When I make an ice ring, I most frequently use my Bundt pan.  But any mold, preferably with a hole in the middle, will work.  I start by putting just a little water in the bottom of the pan and then lining the ring with whatever fruit or garnish I'm using.  You can use anything for the garnish keeping in mind that, as the ice melts, the garnish may/will end up floating in your punch.  Also, make sure that the garnish freezes well and won't turn brown when wet or frozen.  I have used all different kinds of sliced citrus, berries and even holly.
Put the pan in the freezer until the water freezes.  Then add another layer of cold water, keeping in mind that the fuller the pan, the larger the ice ring will be.  Return the pan to the freezer and freeze until solid, several hours or overnight.  There is a reason for doing this in layers.  Because the fruit/garnish floats, by freezing it first in a shallow layer, it will remain on top of the ice ring, instead of floating to the what will become the bottom of the ice ring in your punch bowl.
To remove the ice ring from the pan, simply run warm water over the bottom of the pan until the ice ring releases.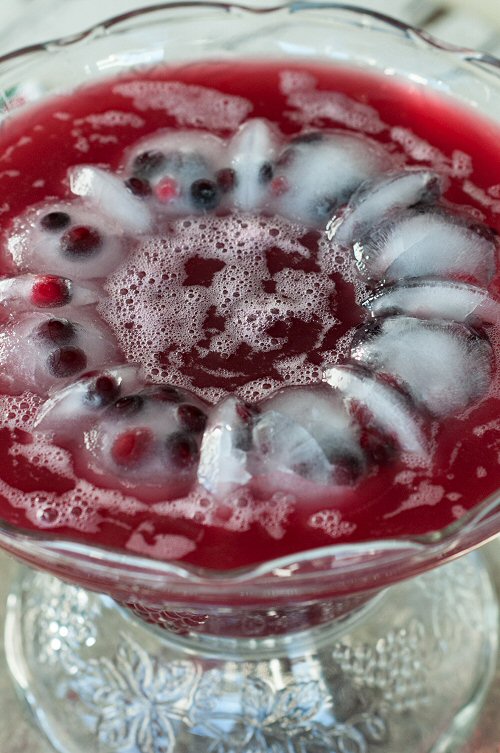 Happy Entertaining!