A recipe from EntertainingCouple.com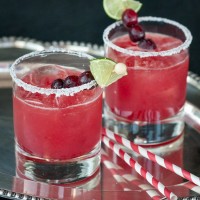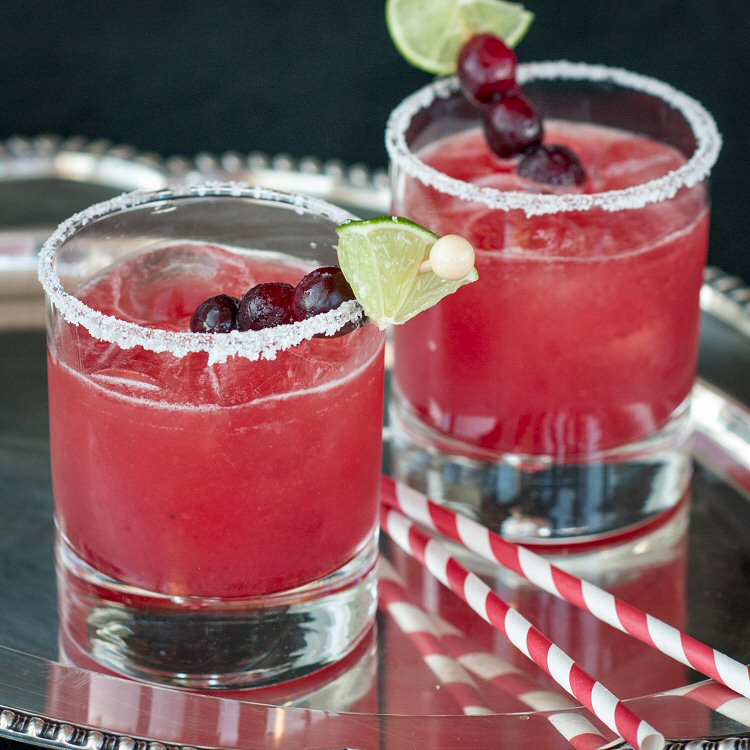 Cranberry Margarita
Don't know what to do with your leftover cranberry sauce? Spoon it into your cocktail shaker and make a round of these! Read our post for more info...

Recipe
Ingredients (serves 2):
1/2 lime
1/2 orange
2 tablespoons cranberry sauce (for amazing results, make your own)
1-2 teaspoons agave nectar
3 ounces tequila
1 1/2 ounces Grand Marnier
Ice
1 tablespoon margarita salt mixed with 1 tablespoon sugar (optional)
Directions:
* Optionally, moisten the rims of two cocktail glasses with the edge of a lime half and dip the rims in the salt/sugar mixture.  Fill glasses with ice and set aside.
Spoon the cranberry sauce into the metal half of a Boston-style cocktail shaker.
Squeeze the lime half and orange half into the shaker and muddle to combine with the cranberry sauce.
Fill shaker with ice.
Add the agave nectar.
Add the tequila and Grand Marnier.
Join shaker halves and shake briskly for 10-15 seconds.
Strain over ice into cocktail glasses and serve.
Bartender's hints:  Any canned cranberry sauce (either whole or jellied) works well with this recipe.  My preference is to use our homemade sauce — it contains a bit of red pepper, plus orange juice and Grand Marnier, so it blends amazingly well with tequila.  And because it's made with whole cranberries, tiny bits of berry make their way through the strainer and accent the cranberry margarita nicely.  Also:  Experiment with the amount of agave nectar to suit your guests' tastes.  2 teaspoons will result in a sweeter cranberry margarita while 1 teaspoon will taste more tart.
Total time: 10 min | Prep: 10 min | Cook: N/A