A recipe from EntertainingCouple.com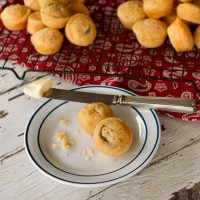 Recipe
Ingredients:
1/3 cup vegetable oil
1/2 cup white sugar
2 eggs
3/4 cup buttermilk
1 teaspoon baking powder
1 teaspoon salt
1/2 teaspoon baking soda
1 1/2 cups yellow cornmeal
1/2 cup flour
I can (15 ounce) creamed style corn
1 1/2 cups grated Cheddar cheese
Jalapeño slices (optional, one for each cornbread muffin)
Directions:
Place the baking rack in the middle of the oven and preheat the oven to 350 degrees.  Grease 24 mini muffin cups.  (This recipe will actually make 48 cornbread muffins.)
In large mixing bowl, whisk together the oil and sugar until slightly thickened.  Whisk in the eggs until well blended and then add the buttermilk, again whisking until well blended.  Add the dry ingredients and blend just until blended (don't overmix).  With a wooden spoon, stir in the corn.   Fold in the cheese.
Fill each cup 2/3 full.  If using jalapeño slices, drain on a paper towel and insert one slice into the center of each muffin.
Bake for about 15 minutes or until a toothpick inserted comes out clean.  Remove the cornbread muffins from the tin and cool on a wire rack.  These muffins are best served fresh but will keep for a day or so in an air-tight container.
Total time: 30 min | Prep: 15 min | Cook: 15 min