A recipe from EntertainingCouple.com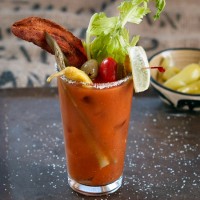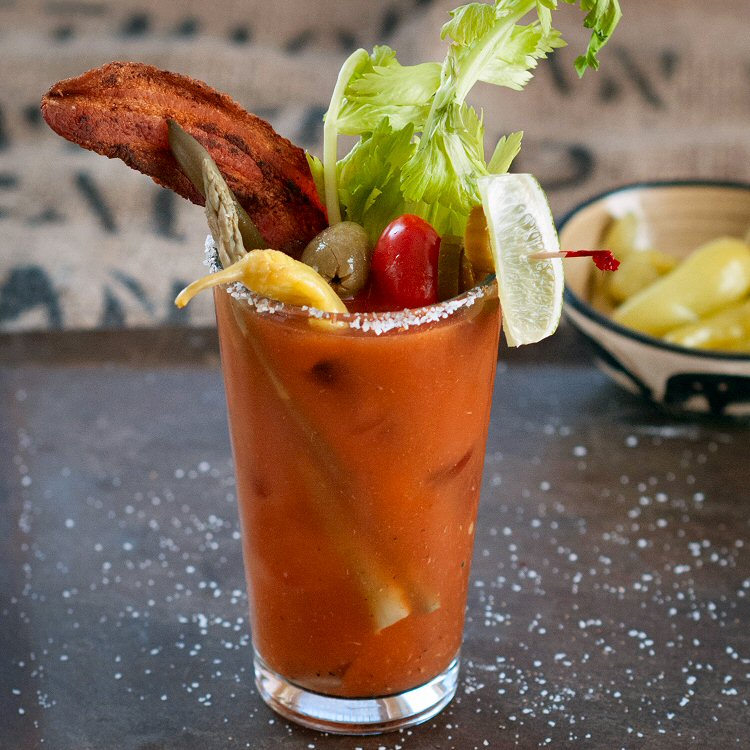 Bloody Mary
There's just nothing like a frosty pint glass full of spicy tomato-y goodness overflowing with a salad bar of garnishes. It's like breakfast in a glass. Read our post for more info...

Recipe
Ingredients:
2-3 oz vodka
1 oz Demitri's Bloody Mary seasoning mix

Squeeze of fresh lime
V8 Vegetable Juice or tomato juice
Celery stalk
Your favorite Bloody Mary garnishes
Directions:
Fill the glass half of a Boston-style cocktail shaker with ice.
Add vodka, Demitri's seasoning mix, and lime juice.
Top with V8 or tomato juice.
Join the glass with the metal half of the Boston shaker and shake briskly for 10-15 seconds.
Fill a pint glass with ice.
Strain the contents of the shaker into the pint glass.  Garnish with celery stalk (and other garnishes,if desired; see below for suggestions) and serve.
Bartender's hints:  To really dress up your Bloody Mary, moisten the rim of your serving glass with lime juice and dip it into a salt and pepper mixture before filling it with ice.  And while a stalk of celery (with leaves still attached, if possible) is almost mandatory in a Bloody Mary, many additional garnishes are popular:  Green or black olives, dill pickle spears, jalapeños, spiced beans, pickled asparagus, shrimp, a crispy strip of thick-sliced bacon, cherry tomatoes, peperoncinis, even beef jerky. Experiment and enjoy!
Total time: 5 min | Prep: 5 min | Cook: N/A