My quest for the perfect Pizza Margherita
A few years back, The Hostess and I vacationed with friends for a couple weeks on Italy's Amalfi Coast.  We knew to expect good food as that region is well-known for its simple, rustic recipes made with the freshest regional ingredients.  But we had no idea what an understatement good food is when you apply that term to the Amalfi region.  "Where are we going to eat next?" became something we started asking as soon as we'd licked our plates clean from the previous meal.
I realized I'd fallen off the caloric deep end when, a week into the trip, some of my clothes were no longer fitting.  The temptation behind my total loss of self control was the combination of fresh mozzarella, tomatoes, and basil known as "caprese" (literally, "from Capri").  I've always been a sucker for a good tomato and mozzarella salad, but nothing prepared me for just how delicious that combination would taste in the region of Italy where it was born.  I didn't need to understand Italian to hear caprese beckoning me from every restaurant doorway.  Caprese sandwiches, caprese pasta, caprese salad, I ate them all with reckless abandon.  And the most irresistible form of caprese proved to be Pizza Margherita.
Legend has it that the Margherita pizza was named for Queen Margherita who, during a visit to Naples in the late 19th century, favored it because the three toppings evoked for her the green/white/red colors of the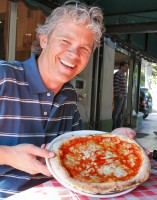 Italian flag.  We found Pizza Margherita literally everywhere.  Even at truck stops.  (Where, on our first morning in the country, we observed two little old ladies eating it for brunch.  They each folded a huge slice in half and ate it like a sandwich.)  Possibly the best one I enjoyed was in a café just outside the entrance to the ruins of Pompeii, where they let us park in their lot for free if we agreed to eat lunch there.  My mouth still waters when I think of it.
I returned from Italy twelve pounds heavier and with a determination to learn how to make my own Margherita pizza at home.  The simplicity of the ingredients made this look to be pretty straightforward.  I'd never used fresh mozzarella on a pizza before, but it was easy enough to find in the deli section of most grocery stores.  Same with fresh basil leaves.  I expected that the biggest challenge would be finding an appropriate tomato sauce, since the authentic Italian topping is more tomato-y and less sauce-y, but I quickly found a very satisfactory brand of canned "organic crushed tomatoes."  And I'd actually been making homemade pizza for years, using a handmade crust that was based on an old Betty Crocker recipe from my childhood.  But it was the crust that tripped me up.  The pizzas we'd enjoyed in Italy had a crust that was crispy and light while still having a hearty chewiness to it.  Suffice it to say that it took me dozens of pizzas and numerous tweaks and fiddles before I found a combination of ingredients and process that I think is close to authentic.  I must admit that I now use a bread machine rather than hand-kneeding.  And while more authentic recipes require that the dough rest in the refrigerator for at least a day or two, my recipe shortens the entire process to less than three hours so that I can have my pizza on the same day that the cravings hit.  I'll also acknowledge Alton Brown, as it was his recipe that finally unlocked some of the secrets for me.  Finally, until the day that I have my own dedicated pizza oven (preferably wood-fired!), I'll never again make a pizza without using a pizza stone.  That's the only way I've found to get the perfect combination of crisp and chewy.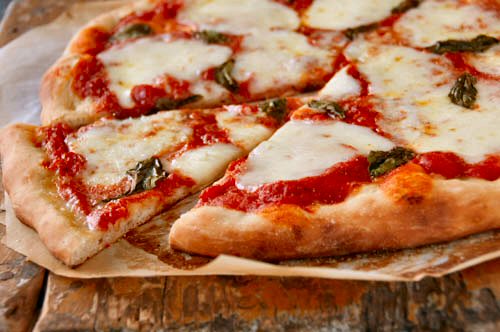 Now I can make pizza that reminds me of that parking lot café at Pompeii whenever I get the urge.  In moderation, of course.
Also, I'm using the festive red-and-green color of this pizza as my excuse for posting the recipe right in the middle of the Christmas holiday.  Serve it as a delicious break from the traditional holiday fare, then enjoy it throughout the year!