A recipe from EntertainingCouple.com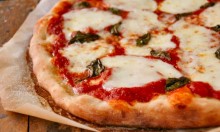 Pizza Margherita
We returned from a trip to Italy determined to make a margherita pizza as good as the ones we'd eaten in Napoli. After more than a dozen attempts we think this one comes pretty darn close. Read our post for more info...

Recipe
This recipe requires a pizza stone and a bread machine.
Ingredients (makes one 14" pizza, serves 2-3):
1 package Rapid Rise yeast
2 cups of Bread Flour (if using All-Purpose flour, which will yield a denser, more rustic crust, increase flour to 2 1/4 cups)
2 tbsp sugar
1 tsp salt
1 tbsp olive oil
¾ cup warm water (105-110 degrees)
1 cup  crushed tomatoes (Our current favorite is Muir Glenn's "Organic Crushed Tomatoes with Basil and Garlic")
8 ounce ball of fresh mozzarella
Fresh organic basil – a dozen leaves or so
Additional salt, pepper, and olive oil for topping
Directions:
Add 1 cup flour to bread machine, followed by yeast, sugar, salt, and olive oil.
Add water, followed by 2nd cup of flour, and knead per machine's instructions for dough.  Be prepared to sprinkle additional flour into machine if dough appears too sticky after a few minutes.
Transfer dough to a glass or ceramic bowl coated with olive oil.
Cover and let rise in a warm place for 1-2 hours.
Punch dough down and refrigerate for at least 30 minutes.
At least 45 minutes before you're ready to cook, place pizza stone on lower-middle rack and preheat oven to 500 degrees.  Yes, it's hot — that's not a typo.  High heat is critical for the crust to have the perfect amount of light crunchiness.  We've found, at least in the ovens we've used, that for the stone to be hot enough it needs an additional 10-15 minutes beyond the oven's pre-heat cycle.
Note:  We use parchment paper for ease of transfer in and out of the oven; we don't remove the pizza from the parchment paper until serving.  If you prefer using a pizza peel, adjust the directions accordingly.
Remove dough ball from refrigerator, cover it with a light dusting of flour, and flatten into a thick disk about 6"-8" in diameter.  Let rest on parchment paper for a few minutes, then slowly spread and shape (or try tossing!) until about 14" in diameter, being careful to keep uniformly thick.  Let rest again for a few minutes.
While dough is resting, cut mozzarella into 1/8" thick slices.
Drizzle olive oil over dough; sprinkle with salt and pepper.
Spread pizza with a light covering of tomatoes.  Don't overdo the sauce; a thin layer is all that's necessary.  Add mozzarella slices and basil leaves.
Slide pizza (still on parchment paper) onto a cookie sheet; then carefully slide off cookie sheet and into the oven onto the pizza stone.
Bake for 8 minutes, plus or minus a minute or two depending on your oven.  Pizza is done when cheese is bubbling in the very center of the pizza.
Transfer pizza from stone to cookie sheet to remove from oven.  Do not attempt to remove stone from oven until cool.
Let pizza cool for 3-5 minutes, serve.
*Note:  Total time includes about 30 minutes to prepare the dough, 2-3 hours for the dough to rise and chill, and 30 minutes to create the pizza.
Total time: 3.5* hr | Prep: 1 hr | Cook: 8 min