Great Cocktail, Dumb Name
When happy hour approaches and I ask our guests if I can shake them up a little something at the bar, a response I often get is, "Sure!  What are you having?"  Often, especially if it's a big group, I'll stick with one of my standard crowd pleasers so I can make a big batch and fill a lot of glasses quickly.  But sometimes, when the mood is just right, I may suggest something more risky, something with a more complicated flavor that may, or may not, prove to be a hit.  The Aviation is just such a drink.
The Aviation is most definitely for you gin martini lovers.  When you're looking for an unconventional twist on your martini, check out this pre-prohibition classic.  It's a refreshing combination of a stiff pour of gin,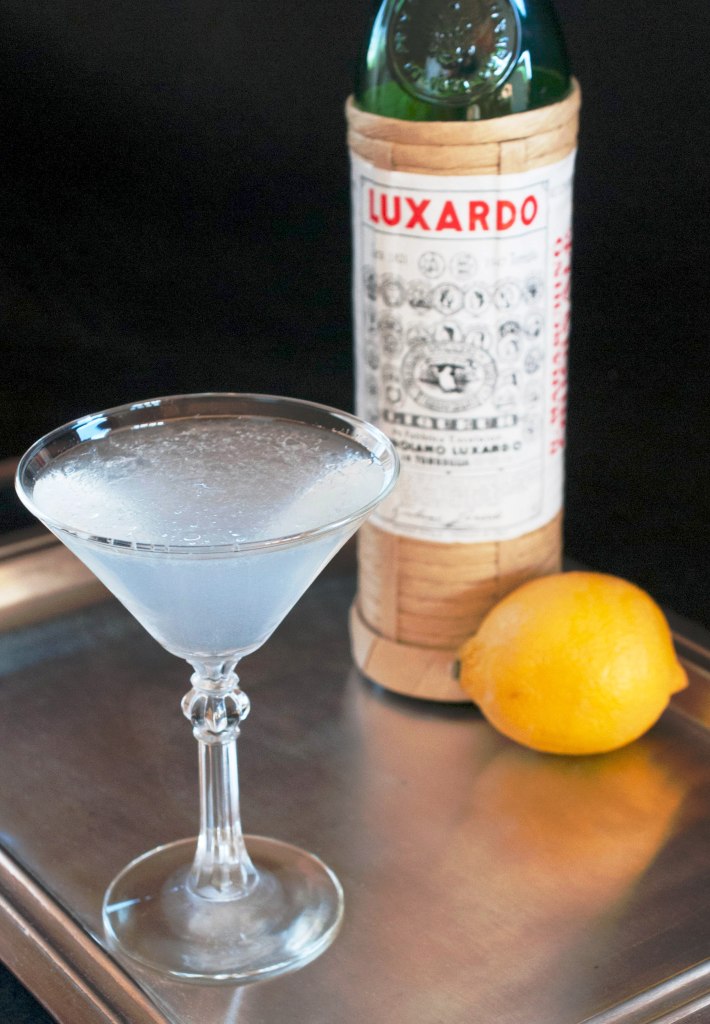 a squeeze of fresh lemon, and a splash of a clear, complex 19th-century liqueur derived from sour Marasca cherries. I came across the recipe for the Aviation years ago in Paul Harrington's cocktail book (read more about it in my earlier post) in which he calls it "the prince of classic cocktails."  The drink caught my eye as one of the gin-based cocktails in the book that seemed simple to make.  Probably the hardest part was finding a bottle of Maraschino liqueur.  It seems like only the larger liquor stores carry it, and it's usually hanging out on the bottom shelf, a few rows below the Goldschläger and Jägermeister (look for a tall green bottle wrapped in straw lattice).  The cocktail's name has always thrown me a bit.  Why not something more, I don't know, singular – like "Aviator" or "Airplane" – instead of naming the drink after a concept or profession or industry or whatever.  Word has it that when the cocktail was invented in the early 1900's, manned flight was in its infancy and the drink's name was meant to evoke the excitement and futurism of the aviation industry.   Maybe it's just me, but that seems a little bit like if someone had named a cocktail "Social Networking" a few years ago.  Something doesn't ring quite right when I say, "Here, try an Aviation!"
Anyway, it's a damn fine cocktail regardless of its name.  It smacks you with the perfect balance of gin's herbal bite, lemon's sour tang, and the not quite sweet, not quite bitter, incredibly intriguing flavor of the Maraschino liqueur.  To borrow a quote from Paul Harrington's book:  "The most wonderful thing about this drink?  It makes you smarter.  Trust us."
Drink this one with caution, it packs a serious punch that has caught me by surprise more than once.  I can attest that smarter is not always better.