A recipe from EntertainingCouple.com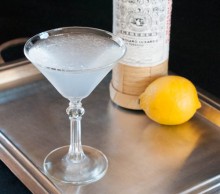 Recipe
Ingredients (serves 2):
4 ounces gin
1 ounce Luxardo Maraschino liqueur
1 ripe lemon
Ice
Directions:
Fill cocktail shaker with ice.
Cut lemon in half and squeeze in juice of both halves
Add the gin and the Maraschino liqueur
Shake briskly for 10-15 seconds
Serve in a chilled martini glass
Bartender's hint:  Best results are achieved with Luxardo, the original creator of Maraschino liqueur.  If you can't find the Luxardo brand, Maraska or Stock are similar but not as good.  Do not use cherry flavored liqueurs such as Cherry Heering; these are not substitutes for Maraschino liqueur and will result in a nasty-tasting drink.
Total time: 5 min | Prep: 5 min | Cook: N/A