A Little Respect for the Cosmo
With the holidays coming on, it only seems right to pay homage to the Cosmopolitan.  This crowd-pleasing cranberry-hued cocktail is one of the easiest martini-style drinks to mix, and its flavor and appearance make it the perfect holiday libation.  Because it's easy to make, but impressive to serve, you may want to make this your signature cocktail at your holiday party.  Shake up a big batch and I guarantee you won't have any leftovers.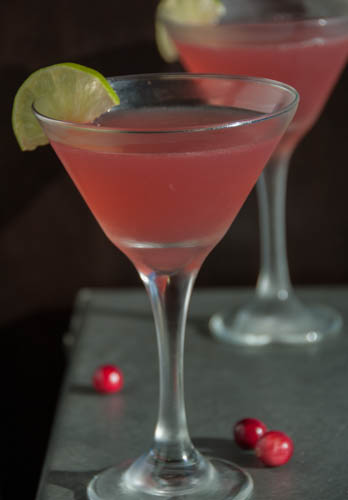 Google "Cosmopolitan recipe" today and you'll get over 3 million hits.  Everyone seems to have their own unique take on the ingredients.  We've sampled quite a few variations, and in my opinion there is only one way to make a proper Cosmopolitan. Use a top-quality, unflavored vodka. Don't use triple sec; Cointreau is a must.  And leave the Rose's Lime Juice on the shelf.  Any cocktail I've ever made using Rose's tastes SO much better when I squeeze in a fresh lime instead…and that's possibly never been more true than in the Cosmopolitan.
The Cosmo attained a bit of "fern bar" stigma when its popularity skyrocketed about 15 years ago thanks to a TV series.  I've known people who avoid ordering them because they think they're cliché, which really is a shame for such an impressive cocktail.  If you've never tried one, do it.  You owe it to yourself to experience the incredible balance of sour-sweet-bitter flavors.  The pinkish drink looks like it will be overly sweet, but it will surprise you.  If you do prefer a sweeter taste, try sugaring the rim of your martini glass. And, if you're intimidated by the color, because it looks too girly, you may just want to man-up and get over it.