A Comfort Food Classic
Comfort food.  Even the name conjures up a happy place.  It's the kind of food we want to eat when we want to feel good.  Yet it seems that comfort food has to fight for its rightful place at the dinner party table.  For some reason, many of us feel the need to serve shi-shi food to guests ("Look at the fancy meal I prepared for you!") and overlook some of the best food out there, that can nourish, comfort and impress.  I think about how much effort we put into ensuring our guests feel comfortable in our home.  It just seems like comfort food is an obvious extension of that message.  One of the "new" restaurants in town (that opened a couple of years ago) serves good, home-cooked food, like meatloaf and mashed potatoes.  If you don't get there early, you won't get a table. Locals love the restaurant and the food on their menu.  We love that we don't have to get all gussied up to go there and we feel good when we leave.  That's how I want our guests to feel about our home.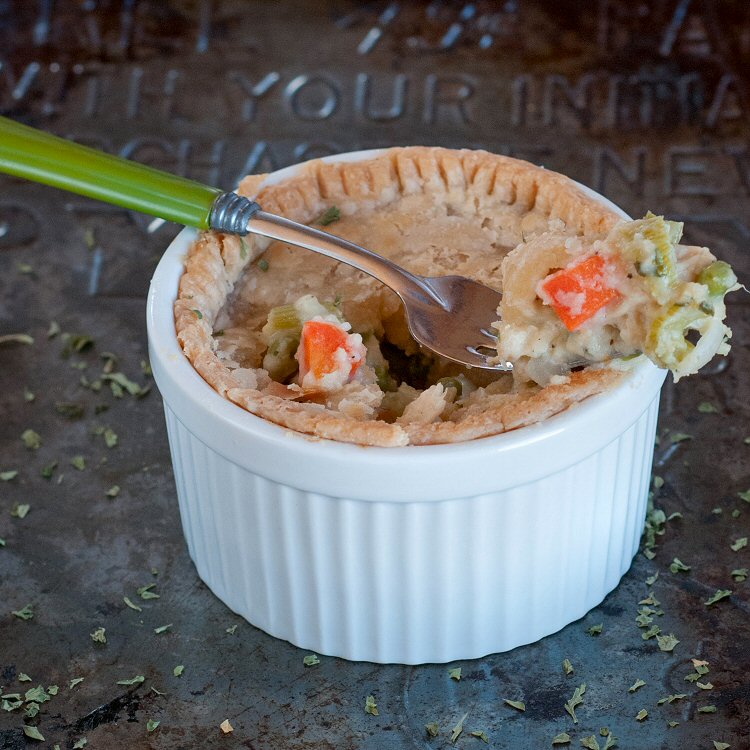 This recipe for chicken potpie was adapted from the Marshall Field's Cookbook.  Growing up in Seattle, I was very familiar with Frederick & Nelson, which was a division of the Marshall Field's in Chicago.  It was the kind of department store that made shopping feel like a special experience.  Parents flocked there at Christmas to get their kids' pictures taken with the Santa.  Brides-to-be ordered their mints from there, because they could be dyed to match the wedding colors.  They had a hat department, and the hats went home in hat boxes when you bought them.  It was the type of store where a voice in the elevators announced "4th floor, Women's Lingerie."  My mom loved Frederick & Nelson's, and we were all a little sad when it went out of business in the early 90's.  The Marshall Field's Cookbook is no longer in print, but I was able to find a used copy on Amazon.  It's full of great recipes that were served in their dining room.  The chicken potpie was one of their most popular dishes on the menu over the years.
I love this recipe.  And the times we've served it to guests, they have loved it, too.  Some variation of the recipe has been around for over 100 years in one of the most iconic dining rooms in the country, so it seems like it has the credentials to proudly attend any dinner party.  With or without the good china and silver.  Good food made from scratch.  If that doesn't say, "Welcome to our home," I don't know what does.
Hostess' notes:
If you're afraid of making your own dough, give this recipe a try. I've had good luck with it and found it to be user-friendly.  Here are some tips for making it work: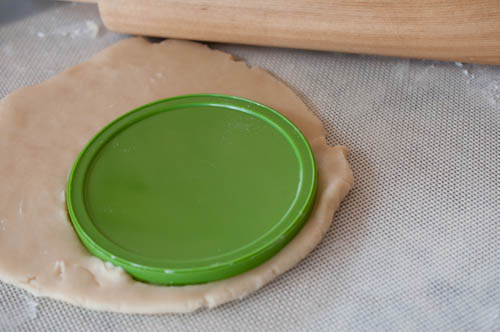 I found a plastic lid that's slightly larger than the ramekins.  I use this to cut the top crust.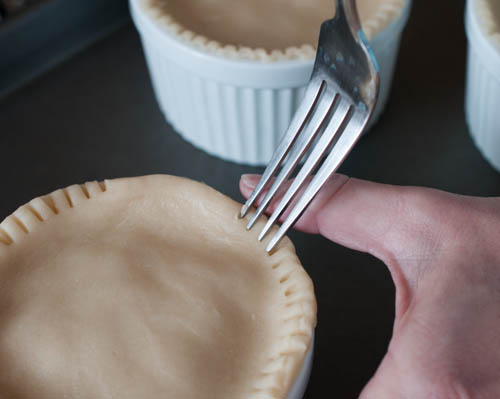 When I flute the edges, I press my thumb against the edge to help seal the crust to the ramekin.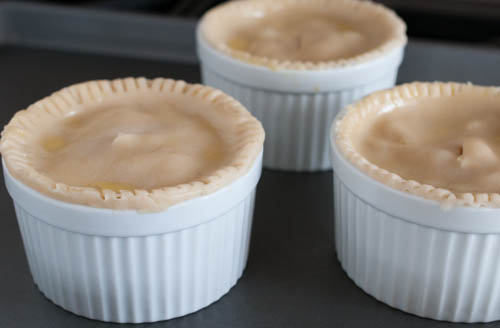 A quick brush of the egg wash and they're ready for the oven!