Lavender — It's Not Just for Grandma's Bathroom
During the summer months the Hostess and I live in what I'm beginning to think of as "Lavender Country."  There's something about our sandy, well-drained soil, our clammy-cold spring weather followed by warm dry summers, and maybe even our area's proximity to salt water and sea breezes that lavender plants seem to love. They spread like weeds in the yards throughout our neighborhood. The few tiny sprigs we planted three years ago have grown and multiplied into an army of bushes the size of Smart Cars.  There are lavender farms in the area and tourists flock to them during mid-summer to admire the purple fields and gawk at all the uses the farmers have dreamt up for their crop.  There's lavender tea, lavender ice cream, lavender scones and muffins, lavender lemonade, lavender skin creams, potpourris, incense, soaps, oils, bug repellents, pillows, sachets, the list goes on.  And, frankly, I'm more than a little embarrassed to admit that I know what potpourris is.  Not to mention a sachet.  So I'll skip the frou-frou stuff and instead talk about a use for lavender that I can really get behind: As the key ingredient in a Lavender Martini.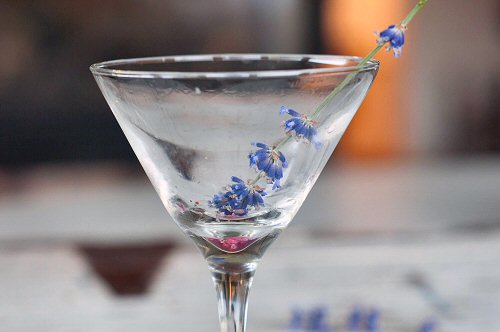 About a year ago we started noticing lavender martinis on summer cocktail menus, and somewhere along the way the Hostess picked up a tin of culinary lavender so that we could try making one ourselves.  With the lavender in our own yard now in full bloom we decided it's high time to work on our lavender martini recipe.  I started with the easy part — making a simple syrup infused with the culinary lavender.  Sidebar:  I have no idea what makes lavender "culinary."  The stuff in the tin looks exactly like the dried flower buds that we sweep up by the pound this time of year.  I suppose if I wore a hairnet and disposable gloves while cleaning our patio (I mean, while harvesting our crop) our lavender might qualify as culinary as well…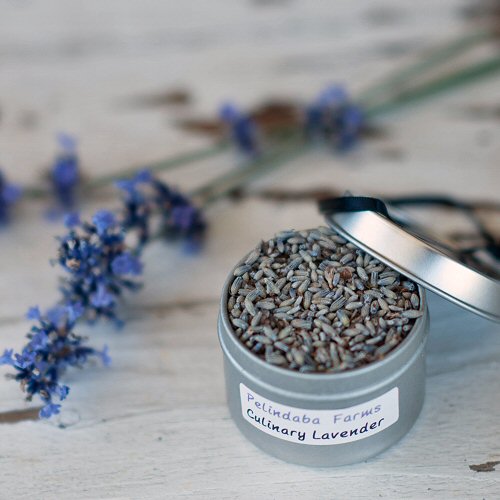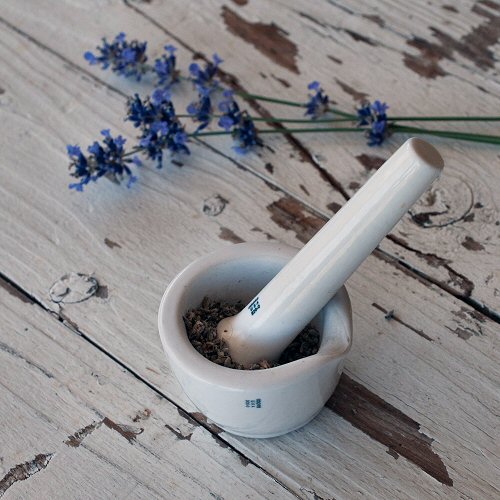 Anyway, the lavender syrup was super easy to make.  As I crushed the flowers the aroma gave me a childhood flashback to the soap in my grandmother's bathroom.  This memory only got stronger while the syrup was simmering on the stove.  Once the syrup cooled I tasted it to get a sense for the flavor I'd be working with, a little concerned that it might be overpowering.  I was pleasantly surprised by a not-too-pungent herbal flavor that tasted a lot like how our garden smells this time of year.  My goal was to create a cocktail that would highlight the lavender flavor while still keeping it subtle and balanced — the lavender martini had to taste like lavender, but not so much that it would remind people of soap.  Or, worse, a sachet.
I started by looking at how chefs cook with lavender, and especially at which other ingredients and flavors work well with it.  Lemon was common, so I figured my recipe would benefit from some fresh lemon juice, but for the first taste test I shook up nothing but plain, unflavored vodka and a couple teaspoons of my lavender syrup.  I then made a second round including a squeeze of fresh lemon, mixed up a third using a lemon-infused vodka, and a fourth with the addition of a little Cointreau.  I lined up several small glasses, sat down with Debbie, and the tasting began.  A couple versions were surprisingly crappy, while one stood out as being better than the others (the lemon juice made a big difference).  But even the best one wasn't quite what I was after, so we plunged ahead with a few more attempts.  The secret ingredient that finally brought everything into balance proved to be a hint of vanilla.  I considered making a new batch of lavender syrup with a few drops of vanilla extract, but decided to keep things simple and just use a bit of vanilla vodka instead.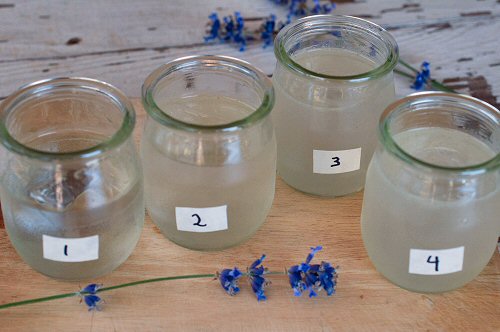 We sampled the final recipe again a few evenings later, and then took the "quality assurance" step of inviting some guest-tasters over for happy hour to get their impartial opinions, which resulted in even more tweaking.  This was definitely not my easiest cocktail recipe!   But I'm really, really happy with the lavender martini that resulted.  Shake one up and let me know what you think!
Cheers!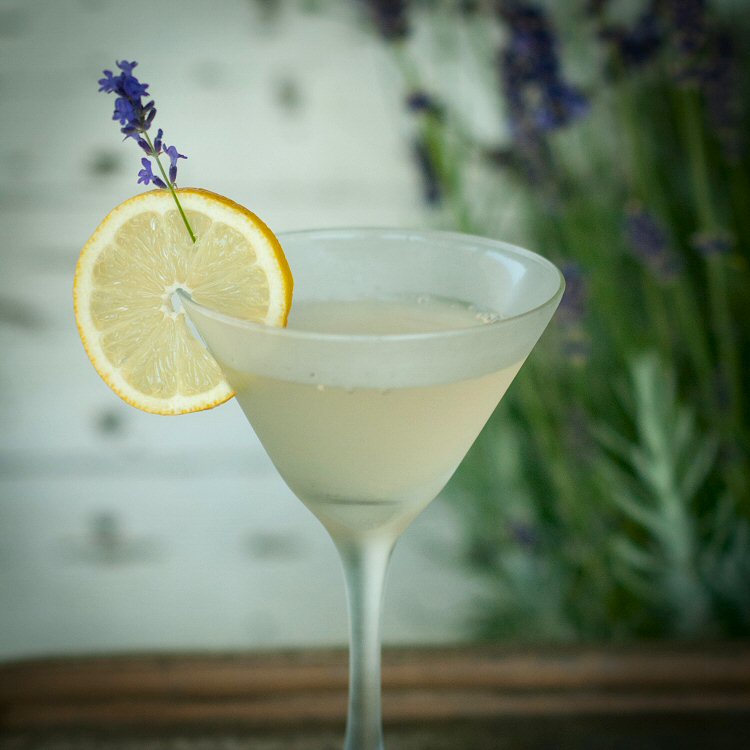 Click here to get recipe