Throwing a Great Party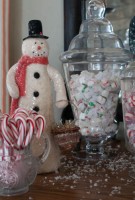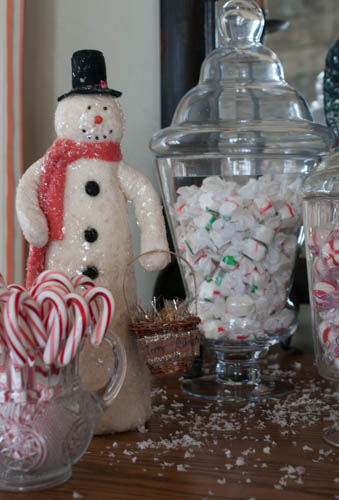 Here are a few of the Hostess' tried-and-true favorite tips for keeping her sanity when there's a party is at our house:
Be prepared.  Make a plan and think through every detail. I can't imagine throwing a party without my lists.  (What food will you serve?  What beverages will you serve?  How will everything be served?  What do you need for each dish or drink, including details like toothpicks?)  A little planning and organization go a long way towards pulling off a successful soiree.
Be realistic about how much time you have.  If your schedule is tight, give yourself a break and don't feel the need to make everything from scratch or to provide homemade gifts for guest to take home.  You can buy a vegetable platter from Costco guilt free.  Just transfer it from the big plastic wheel it comes in to a nice platter of your own.  If you want things to be homemade, then allow yourself to go simple.  Remember, simple can be surprisingly stunning.
Match the food to the style of the party.  People are going to either eat/drink while they stand, walk around and mingle, or they are going to sit down to eat.  If your party is going to be the stand/walk/mingle type of party, you'll want finger foods (which means no utensils) versus food that is served for a sit-down dinner party.
Serving a specialty cocktail can be a fun alternative to stocking an entire bar.  Have a non-alcoholic choice as well.  It's also a good idea to have wine and beer on hand.  Start the party off right by having drinks available right when people get there.  If you're having a dinner party, start with cocktails and then move to wine with dinner.
If kids are on your guest list, think about how to keep them entertained during the party.
Do whatever you can in advance.  Shop for non-perishables and things that you can have in the pantry or freezer.  Prepare food that can just be reheated the day of the party.  Make dips the day ahead.  Set out serving dishes.  If you're having a dinner party, you can even set the table ahead of time.  Clean the bathroom.  (Seriously.  Make all of our mothers proud and clean the loo.)  The less you have to do the day of the party, the better off you'll be.
Create a music playlist ahead of time and have it queued up and ready to begin as soon as the first guest arrives.
Set the mood.  Dim (or turn off) the bright overhead lights.  Light candles and use accent lighting. Have you ever been in a restaurant after it has closed, when the lights are turned up?  Trust me, the pros dim the lights for a reason and you should do the same.
On the day of your party, calculate your time wisely.  This includes time for you to get ready.  It's not okay to answer the door in your bathrobe and curlers and tell your guests to make themselves at home while you finish getting ready.
Most importantly, relax and enjoy your party.  Nothing kills the festive mood of a party like an overworked, stressed-out host or hostess.  Let your guests whisper about the how fabulous the party is, not about what a wreck you are.
Happy Entertaining, and read the Hostess's post for more details.