Stocking the Perfect Bar, Part 1 "Equipment"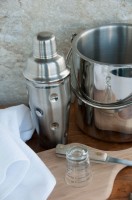 This post is the first of what will be a four-part discussion of how to easily and inexpensively create and stock your home bar.  We don't pretend to be experts, but the Hostess and I do entertain quite frequently and we do know what works well for us…and hopefully what might work for you as well.  This first post covers the basics of which bar tools, both must-haves and nice-to-haves, that will enable you to create a myriad of great cocktails.
Given the amount of bar gadgets you see when browsing in a typical kitchen store, I use surprisingly few at my home bar.  Arrange the following 6 must-have items on a counter, give me some ingredients and glasses (which I'll cover in Parts 2 and 3), and I'm in business:
Cocktail shaker (see my Cocktail Shakers 101 post for suggestions)
Jigger (shot glass), preferably marked with measurements for 1.5 oz and 1.0 oz
Small cutting board
Small, sharp knife
2-3 bar towels
Ice bucket (saves you from running back and forth to the freezer)
When the clock's ticking towards Happy Hour, those are the items I reach for.  I find that I seldom have to dig  into the cabinet for anything else.  Occasionally, though, one or more of the following nice-to-have items comes into play:
Muddler

Strainer

Mixing spoon

Shakers of different styles and sizes
A few of my favorite recipes call for muddled fruit, and generally (but not always) the muddler goes hand-in-hand with a strainer to hold back seeds and rinds.  And while most of my cocktails are shaken, some require only a gentle stirring.  Finally, as shakers go, while you can do just fine with one, I've found I really can't have too many.
Oh, and last but not least, have a corkscrew and a bottle opener on hand to keep the wine and beer drinkers happy.
Next up, I'll discuss ingredients.  Watch for my upcoming Perfect Bar posts!