What to have on hand to be ready for an impromptu party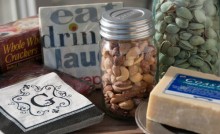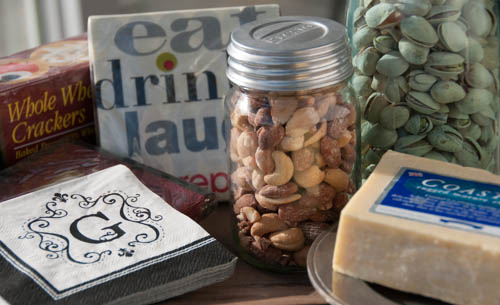 This is the actual list of what you'll find in our pantry and refrigerator, which means if you dropped by right now, unannounced, these are the items that would magically appear at our impromptu party:
Nuts.  In our house, it's pistachios.  I think when I die my tombstone will read, "She always had pistachios."  But it's not unusual for us to also have a supply of cashews, peanuts and almonds on the shelf, keeping the pistachios company.  Make sure you have a couple of nice bowls, not too big/not too small,  to serve the nuts in.  Sometimes I use the crystal bowls, just to show that I can do fancy on the spur of the moment as well.
Cheese/Crackers.  And a nice plate, platter or cutting board to serve it all on.  Keep the cheese wrapped in air-tight containers in your refrigerator and it has a pretty decent shelf life. After a while, you can always just refer to it as "aged cheese."
Cocktail Napkins.  Sure, you could use paper towels, but if you really want to say "I'm always ready for a party," have some cocktail napkins on hand.  Pick up a package next time you're out. Even Ace Hardware sells them.  And with so many napkins with clever sayings, it's a nice way to offer a hint of who you are. Does "It's Wine O'Clock"  ring a bell with anyone else but me?
Candles.  I'm not talking about that half-burned one in your bottom drawer that is your idea of an emergency kit in the event you lose your power.  I'm talking about a handful of votive candles and some candleholders, maybe even different sizes, that can be brought out and lit on a moment's notice.  Heck, throw some dried beans in some mason jars and use those as candleholders.  My sister-in-law once used some small juice glasses as her candleholders.  Nothing will say "instant party" like a few candles.  And keep a scented one handy for the powder room, too.
A music playlist.  Or, in my brother's case, a closet full of old LP's.  Even if it's just a Pandora mix on your iPad, be ready to hit "play" regardless of whether you plan your party for several weeks or for just 5 minutes.  Every party needs music.  Period.
Something sweet, like chocolate.  Like I need another excuse to keep some chocolate in the house.   But that's all this is.  There is chocolate in the pantry only in case friends drop by.  Really.
A clean hand towel.  For the guest bathroom.
A chilled bottle of sparkling water, sparkling wine (a.k.a. "champagne")  and/or Prosecco.   Bubbles = party.
A chilled bottle of white wine.  For obvious reasons.
A bottle of red wine.  See note on white wine.
Ice.  If your ice supply comes from a couple of ice cube trays in your freezer, just make sure that they are always full.  Because one ice cube is not going to cut it.
A good place to temporarily stash all the clutter.  By day, our kitchen counter serves as our office.  We sit, 6′ apart, with nothing more than barstools, the fruit bowl and my piles of papers between us.  By night, when we're entertaining, that counter becomes the gathering place; the place where nuts are served and drinks consumed.  So, I've gotten quite skilled at moving my clutter to another room when it's party time.
For some additional great tips on being prepared for a party, see Bartender's Guide for stocking basics in the bar.