How to Set Your Table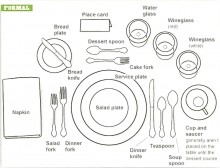 Here is a quick tutorial on setting a formal table:
Chargers (or service plates) are oversized plates that are more for decoration than service. They should be used for the first course (salads and soups) and then removed for the main course.
Utensils are placed in order of use, from the outside in.
Knife blades are placed so that the cutting edge is towards the plate.
The napkin can either be placed in the center of the plate or to the left of the forks.  The fold of the napkin should face the plate (or face to the right if placed on top of the plate).  If space is limited, we usually put the forks on top of the napkin.
Dessert spoons or forks can be placed above the plates or brought to the table when the dessert is served.
Only set the coffee cup and saucer if you're serving coffee with the meal.  Otherwise, bring them to the table with dessert.
Place cards are a nice touch for a table of six or more.  They allow you to decide ahead of time where people should sit and avoid any of that awkward last minute confusion among guests when it's time to sit down.
Read the Hostess's post about setting a formal dinner table for more details.  Plus, here is a collection of table setting ideas from parties we've thrown recently.
Happy Entertaining!