Hospitality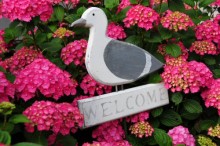 Hospitality seems to elude some people. Or, at least they seemed challenged about how to be hospitable when they need to be.  The dictionary has a good answer:
hos·pi·tal·i·ty [hos-pi-tal-i-tee]
noun, plural hos·pi·tal·i·ties.
1.  the friendly reception and treatment of guests or strangers.
2.  the quality or disposition of receiving and treating guests and strangers in a warm, friendly, generous way.
Well, there you go.  Just be warm and friendly, and you'll be all set.  Why didn't we all think of that?  Clearly it hinges on the fact that you should only invite people that you like.  Or live in the south. Southerners seem to have cornered the market on hospitality.  But, for the rest of us, who live anywhere north of Texas or are not blessed with a warm, friendly disposition, perhaps these basic tips will help us be hospitable.
1.  Remember, it begins at the door.  Make people feel welcome when they arrive.  And since you want to be sincere about it, I would recommend not letting people in your house that you aren't truly glad to have.  Or learn to fake it.  In a genuine way.
2.  Be confident.  Trust that you can throw a party that others will enjoy.  Come up with a good plan and then make it happen.  Along the way, don't sweat the details.  If the vegetables sit in the steamer too long and are overcooked, which happened to us recently, smile, apologize and move on.  Mushy vegetables hardly qualify as a crisis.  And if someone is sitting at your table that is upset by the vegetables, make a note not to invite them back.
3.  This isn't Oz.  It's okay to see the man (or woman) behind the curtain.  Still finishing the sauce for the sole when your guests arrive?  Don't hide it.  Let your guest see what's going on.  It will make them feel at home.
4.  Relax.  Nothing will make others desperate for an excuse for an early departure faster than a stressed out host.  If you relax, your guests will follow suit.  A nice glass of wine may be the trick here.  But remember that too much "relaxation" by the host before dinner can, and has, resulted in a dinner that may never get served.  Or so I've heard.
5.  Don't overreact to the mishaps.  Glasses get broken. Wine gets spilled.  If losing one of your grandmother's priceless wine goblets is going to ruin your day, then don't use it.  Our general rule of thumb is that we don't use anything during a party that is precious or irreplaceable.  It allows us to truly be gracious as we blot the red wine spill off the tablecloth.
6.  Serve a good cocktail when the guests arrive.  Nothing says hospitality quite like a good cocktail.  Honestly, if you want to know the secret behind Southern hospitality, I think it's the cocktails.