"Giving" a Party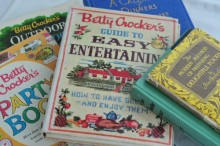 I have this great old book on entertaining that I rescued from my mother-in-law's bookshelf.   Written in 1959, and entitled Betty Crocker's Guide to Easy Entertaining, it is self-described as a "book about hospitality and how it can be fun for the hostess as well as the guest."  I love the tag line on the cover:  How to Have Guests – And Enjoy Them.  Brilliant! 
When talking about why to have a dinner party, as opposed to say a luncheon, the book shares this piece of wisdom:  "Dinner parties have a built-in party spirit  because they come at the end of the day. Business is over.  Now we are free to change to gayer clothes and to enjoy good food and companionship without having to hurry off to other duties or pleasures."  Gayer clothes?  Of course!  The secret to any great dinner party.  Talk about timeless advice!
Betty goes on to define hospitality as "being disposed to entertain with generous kindness."   Being "disposed," she says, is being ready in detail and in spirit.  (I'm assuming she's referring to "spirit" as in a state of mind, and not being disposed in "spirits" of the alcohol sense.  Although I have seen people's emotional spirits being raised significantly by drinking alcohol spirits.)  But what I really like about her advice is she says being hospitable is about being generous by "providing delicious and suitable food."  No use of the word perfect at all.  Rather, just the concept that a party is a gift that you're giving to others.  You are giving a party.  In its simplicity, this says it all. Your party is your gift to your guests.  And unless you've invited the rudest group of ingrates in the world to your party, if this is how you present it, this is how it will be received.