Time for Fresh Crab
Signs of summer are all around us.  We're experiencing an early summer here in the Pacific Northwest, and by that I mean we have sunshine before July 5, which is the day the locals all refer to as the start of summer.  (In other words, it's rare for us to see sunshine for the 4th of July holiday, much less any time before it.)  Flip flops have been dusted off, shorts have been moved from the back of the drawers to the front, and our thick fleece jackets have been replaced by thinner fleece (can't get too carried away as it still gets cool in the evening).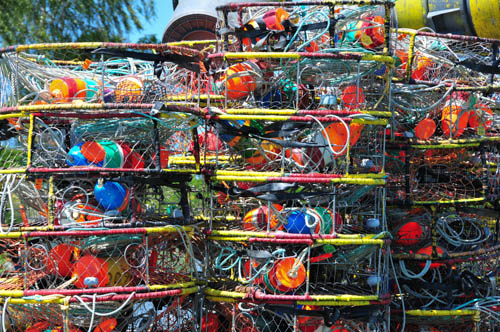 We live on a salt-water channel that serves as a thoroughfare from town to the more open water around some of the islands.  In the summer, we watch a constant parade of boats in all shapes and sizes as they come and go.  Even when we're not looking, we can hear the boats go by and have gotten pretty adept at identifying the kind of boat (tug versus small skiff versus large power boat) by the sound of its engine.  Or lack thereof.  When we can hear voices, we know the boaters are probably going by in kayaks.  The channel is also used heavily by the commercial fisherman and the volume of traffic varies based on what is in season at the moment.  Currently, it's crabbing season and we see a never-ending stream of boats, laden with crab pots, off in pursuit of their daily catch.  On many mornings, before the sun even comes up, we hear the boats passing by our house, getting an early start to the day.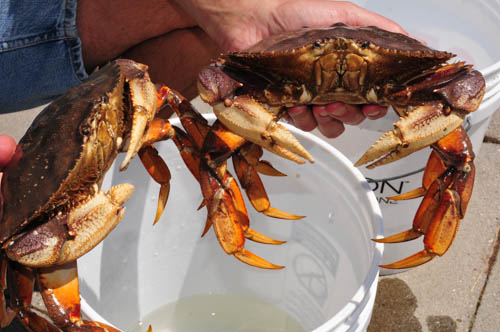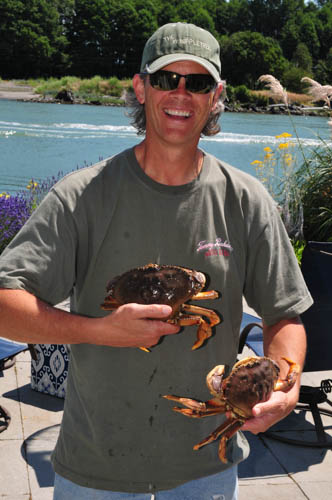 Today was opening day of crab season for the non-commercial boats.  That means people like us who own 1 or 2 crab pots and have purchased a license.  The Bartender motored out about 20 minutes from the house and set our trap early this morning which resulted in 2 large "keeper" crabs a few hours later.  This is as close as we ever get to being hunters or gatherers.  The water was a little choppy this morning but hardly a scene from the Deadliest Catch.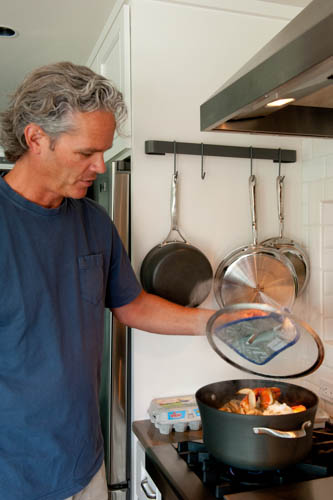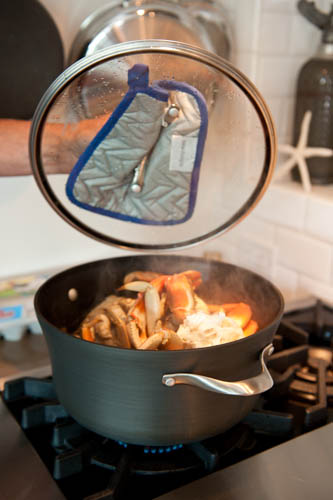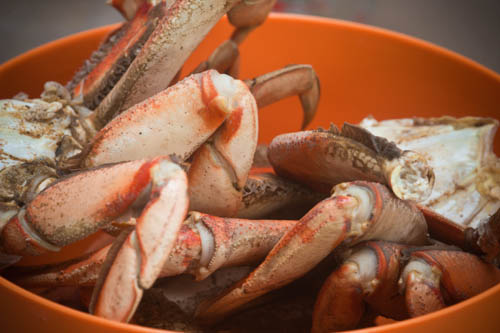 In these parts, the crab is Dungeness which takes a little work in order to extract all the sweet, juicy meat but is well worth the effort.  Eating this kind of crab requires an assortment of tools (crackers that can be used in the off season to crack nuts, teensie little forks, crab picks and these little zipper thingies that slice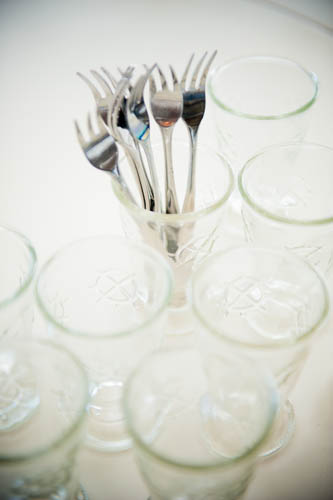 the shell).  Bibs are optional.  Finger bowls are recommended.  And you'll find that there are well established techniques by those that have been practicing the art of crab picking/eating for a while.  Some eat a bite each time they have a forkful.  Others show a great deal of patience and restraint and first pick all the meat they can, pile it into a neat little gob and then enjoy the feast unencumbered by additional stops and picks.  Either way, you can be assured that there is a large amount of butter and cocktail sauce involved.  But we have found that not everyone enjoys the picking aspect of the meal.  They just don't seem to find the appeal in being covered from fingertip to elbow in crab juice and shell fragments.  So, for people we really like, after we cook the crabs, we'll do all the work for them and serve it as a crab cocktail.  We actually put the cocktail sauce in the bottom of the glass, which provides a little for dipping without overwhelming the sweet, yummy goodness of the crab.
Happy entertaining!