A recipe from EntertainingCouple.com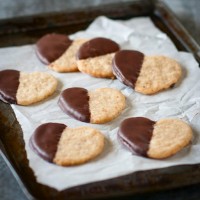 Chocolate-Dipped Walnut Shortbread Cookies
These rich, buttery shortbread cookies will be the perfect sweet treat for your next brunch.

Recipe
Ingredients (makes about 2 dozen cookies):
1/2 cup walnuts
1/2 cup sugar
1 cup all-purpose flour
1/4 teaspoon salt
8 tablespoons unsalted butter, chilled
1/2 teaspoon vanilla
4 ounces (1 bar) dark, bittersweet chocolate (something like 60% cacao)
Directions:
Prepare the dough ahead of time:
Preheat oven to 350 degrees.  Arrange the walnuts in a single layer in a baking pan and toast for 7 – 8 minutes, or until fragrant.  Don't overcook them or let them get too brown.  You just want a light toasting.  Cool slightly.
Place the toasted walnuts, sugar, flour and salt in the bowl of a food processor.  Process until the nuts are finely ground.  (Scrape the sides of the bowl if necessary.)  Cut the butter into 7 or 8 slices.  Add the butter and vanilla; process until the butter is cut in evenly and the mixture starts to come together.  Scrape down the side of the bowl as necessary.  The dough will be very crumbly and won't form into a ball.
Transfer to dough onto a flat surface.  (I placed mine right onto the plastic wrap.)  Knead lightly until the dough comes together.  Flatten into a disc (about 3/4" thick) and wrap well with plastic wrap.  Chill at least 2 hours (or overnight).
When you're ready to bake the cookies:
Remove the dough from the refrigerator about 15 minutes prior to rolling.
Place an oven rack in the middle of the oven and preheat to 350 degrees.
Line a baking sheet with parchment paper.
On a lightly floured surface, roll the dough to 1/4" thickness.  Cut with a 2" cookie cutter, and place on the prepared cookie sheet.  Gather and re-roll scraps, and cut again.
Bake 10 -12 minutes or just until the edges start to brown.  Remove from the oven, and transfer the cookies to a rack to cool completely.
Melt the chocolate according to package instructions.  You can either melt it in the top of a double boiler over low heat or in a microwave on HIGH for 1 1/2 to minutes.  Dip half of each cookie into the chocolate.  Place on a baking sheet lined with parchment paper.  Chill in the refrigerator for about 15 minutes or until the chocolate is set.
Hostess's Hint:  This dough can be a little challenging to work with, especially if you're new to this type of cookie.   After the dough has chilled, it needs to warm slightly.  Keep your surface dusted with flour, and you may need to dust your rolling pin with flour as well.  If the dough cracks as you're rolling it, just press it together and keep working at it.  It's actually pretty forgiving.
Note:  Total time to make these Chocolate-Dipped Walnut Shortbread Cookies includes at least 2 hours for the dough to chill and 15 minutes for the chocolate to set.
Total time: 3.5* hr | Prep: 1 hr | Cook: 12 min