A recipe from EntertainingCouple.com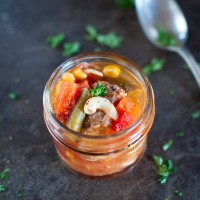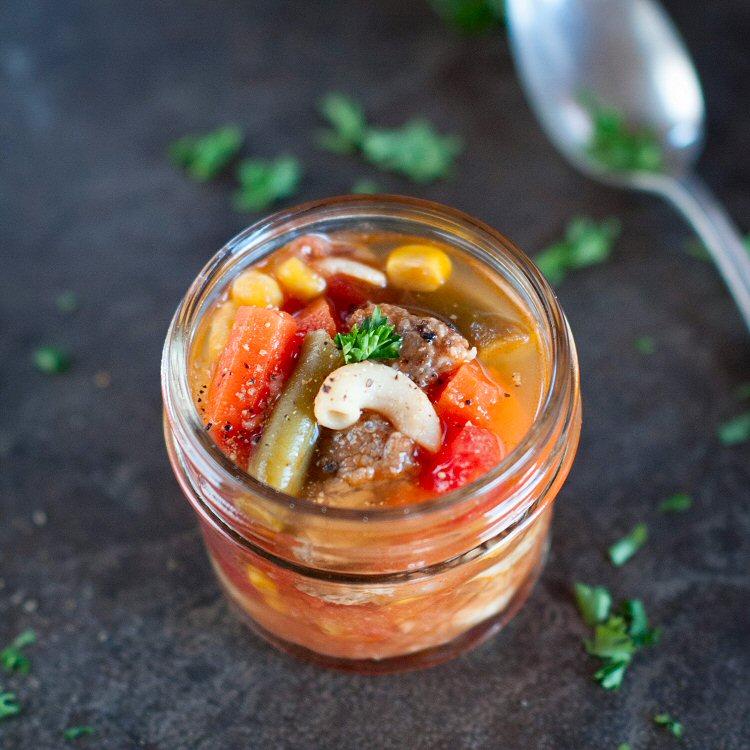 Hearty Vegetable Beef Soup
(Recipe adapted from Williams-Sonoma). For me, soup is one of the most communal things I can prepare in my kitchen. Read our post for more info...

Recipe
Ingredients (makes 6-8 servings):
2 tablespoons olive oil
2 tablespoons butter
1 pound boneless beef chuck (stew meat)
1 large yellow onion, chopped
4 celery stalks, cut into 1/2" (bite-size) pieces
6 cups beef broth
5 small carrots, peeled and cut into 1/2" (bite-size) pieces
3 small new red-skinned potatoes, scrubbed (not peeled) and cut into small 1/4" pieces
1 can (15 ounce) petite diced tomatoes, with juices
1 cup dry pasta (elbow or similar)
1 cup frozen (cut) green beans
1 can (15 ounce) whole corn niblets, drained
4 tablespoons chopped, fresh parsley
Salt and pepper
Directions:
Trim any visible fat from the beef and cut into bite-size pieces.
In a large soup pot over medium-high heat, heat the olive oil.  Add the beef and a good sprinkle of pepper.  Cook, stirring occasionally, until the beef is evenly browned on all sides (about 5 – 7 minutes).
Reduce the heat to medium and add the butter.  Add the onion and celery.  Add a sprinkle of salt to the vegetables.  Cook, stirring occasionally, until the onion is soft and translucent, 5 – 7 minutes.
Add the beef broth.  Bring to a boil.  Cover, reduce to a simmer, and cook for about 1 hour.
Add the carrots, potatoes, and tomatoes (and juices), and stir well.  Continue to simmer for 20 – 30 minutes, or until the potatoes are tender.
Add the green beans, corn and parsley.  Stir well and allow to simmer while the pasta cooks.
Cook the pasta to al dente, according to package instructions.  Drain, and set aside.
Add the pasta and pepper.  Taste for seasoning and add more salt if necessary.  (I find if the broth has salt in it, usually additional salt is not necessary.  But adjust for your personal tastes.)
Serve immediately.
*Note:  Much of the preparation time for this vegetable beef soup recipe takes place while ingredients are cooking, so the total time to finish the recipe is somewhat less than "prep time + cook time."
Total time: 2* hr | Prep: 45 min | Cook: 1:45 hr