A recipe from EntertainingCouple.com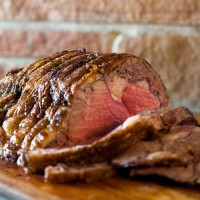 Standing Prime Rib Roast with Creamy Horseradish Sauce
It's easier than you might think to make the perfect prime rib roast.

Recipe
Ingredients:
Prime Rib Roast:
7 – 8 pound prime rib roast (A good rule of thumb is to plan on 1 bone per 2 people.  That can equate to about 10 ounces of cooked prime rib per person.)
1/2 cup butter, at room temperature (soft, but not melted)
4 garlic cloves, minced
1/4 onion, minced
1 teaspoon black pepper
1 tablespoon dried thyme
1/2 tablespoon dried savory
1 teaspoon dried oregano
1 teaspoon dried rosemary
1/2 teaspoon dried marjoram
Kosher salt
Creamy Horseradish Sauce:
1/2 cup mayonnaise
3 tablespoons prepared horseradish (or to taste)
1 tablespoon lemon juice
2 teaspoons Dijon-style mustard
1/2 cup sour cream
Directions:
Prime Rib Roast:
Place roast in a shallow roasting pan.  Combine the butter with the garlic, onion and seasonings.  Spread the butter mixture over the surface of roast.  Sprinkle the salt over the butter.
Let stand until the roast is at room temperature (1 – several hours).
Preheat oven to 450 degrees.
Place the roast in the preheated oven for 15 minutes or until the roast starts to brown and is "seared."  Reduce the heat to 300 degrees and continue roasting for 15 – 18 minutes per pound.
Allow the prime rib to rest for about 15 – 20 minutes prior to carving  to allow the juices to settle.
Thanks to © Chef Jason K. Morse, 5280culinary.com, for these prime rib cooking tips:
Here is an approximate Prime Rib roasting timetable. Keep in mind oven and grill temps may vary, so use a good quality digital thermometer to best judge doneness.  The following weights include bones:
3 Ribs – 7-8 Pounds:  1 ½ – 1 ¾ Hours
4 Ribs – 9-11 Pounds:  1 ¾ – 2 ½ Hours
5 Ribs – 12-13 Pounds:  2 ½ – 3 Hours
6 Ribs – 14-16 Pounds:  3 – 3 ½ Hours
7 Ribs – 16 Pounds and up:  3 ½ – 4 ½ Hours
Beef will continue to Carry Over cook. Once removed from the oven it will continue to cook another 10-12 degrees in 20 minutes of resting. Be sure to pull slightly under desired doneness (see temperatures below) to allow the carry over cooking to end up at the exact temp desired:
Rare:  80 ­‐100 degrees
Medium Rare:  125 – 135 degrees
Medium:  140 – 145 degrees
Medium/Medium Well:  150 – 155 degrees
Well Done:  160+ degrees
Creamy Horseradish Sauce:
In a small saucepan, over low heat, warm the mayonnaise, horseradish, lemon juice and mustard.  Heat, stirring occasionally, until warm and combined.
Add the sour cream and heat just until warm.
Serve immediately.
* Notes:  Cook times are approximate and will vary depending on the size of your roast and your preferred level of doneness.  Total time for this recipe includes standing time for the roast to reach room temperature before cooking begins.
Total time: 5* hr | Prep: 30 min | Cook: 2* hr